The Last 10 Micro-Chop Articles and Two Roland Pieces
A Linafornia profile for Roland, Micro-Chop interviews with Elaquent, DJ Manipulator, and Leon Sylvers III, plus much more.

---
Hi folks. I've been busying writing this summer. I know sometimes the flood of emails can make it difficult to keep up, so I wanted to do a quick recap.
If you like one of these stories, it would mean so much if you could share it on Facebook, Instagram, Twitter, or email/forward it to someone directly.
---
First, I've had the exciting opportunity to do some writing for Roland, the folks behind the Roland TR-808, SP-404, and many other iconic drum machines, samplers, and synths.
The first article is a very in-depth profile with Linafornia. We had a great conversation back in June and I had a lot of fun writing this one up. We talked about her personal history, the current social/political/pandemic climate, how she nurtures her creativity with interests outside of music, her music-making process, and much more. Check it out here.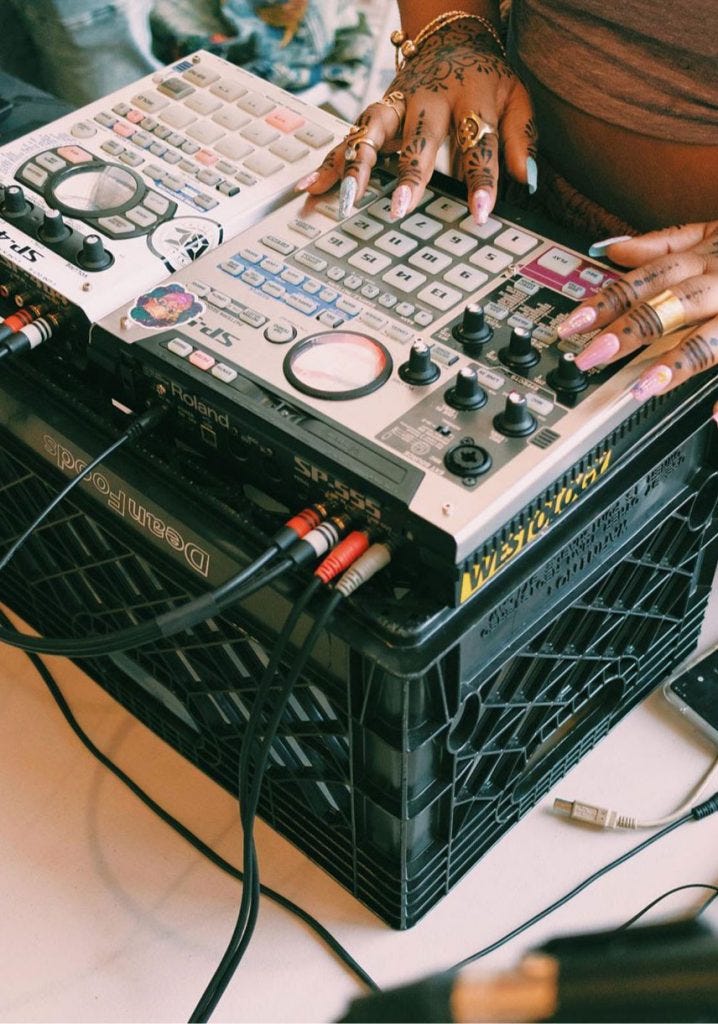 I also wrote a super deep dive tracing the Roland sound through rap music and associated electronic/sample-based genres over the years. This one required a ton of research but I learned a lot during the process and I'm very honored the company gave me the opportunity to put this piece together. I looked at the use of the famed 808, the TR-303, the lesser-known MC-50 (used by DJ Krush), the Roland SP series, legendary Roland stock sounds, and much more. I also tried to show that many early records made with Roland equipment ended up becoming important sample sources in their own right. Check it out here.
If you get through these two articles and still have room for more, here are the last 10 Micro-Chop pieces I've published.
1) Was Jneiro Jarel the First Person to Use an SP-404 on Record?
2) The Leon Sylvers III Interview Part 2
3) The Leon Sylvers III Interview Part 1
4) "The SP is More Like My Sketching Tool": DJ Manipulator Breaks Down 'The Synth Tape'
5) "I Don't Believe in Giving Up on a Beat": An Elaquent Interview
6) "You and Me" by Penny & The Quarters is a Demo Recording Someone Found at an Estate Sale
7) Snap!'s "Rhythm Is a Dancer" Sampled the Synth in Newcleus' "Auto-Man"
8) Mixtape DJ Grandmaster Vic Influenced Large Professor's Production on Nas' "It Ain't Hard to Tell"
9) Gravediggaz' "Diary of a Madman" Used a Car Commercial Sample From a Cassette
10) MC Lyte's "10% Dis" Made an Ideal Sample Source For Scratched Choruses
I hope you enjoy these stories, learn something, and discover some new in the process.
One more thing: Today I'm thinking of all my readers. We're living through some very difficult and challenging times. Please be safe and take care of yourself and those close to you.
Lots of love to all of you.
---
Thanks for reading, see you on Monday for the final installment of my interview with Leon Sylvers III.