Cortex: The Mysterious French Band Behind Some of Rap's Most Majestic Moments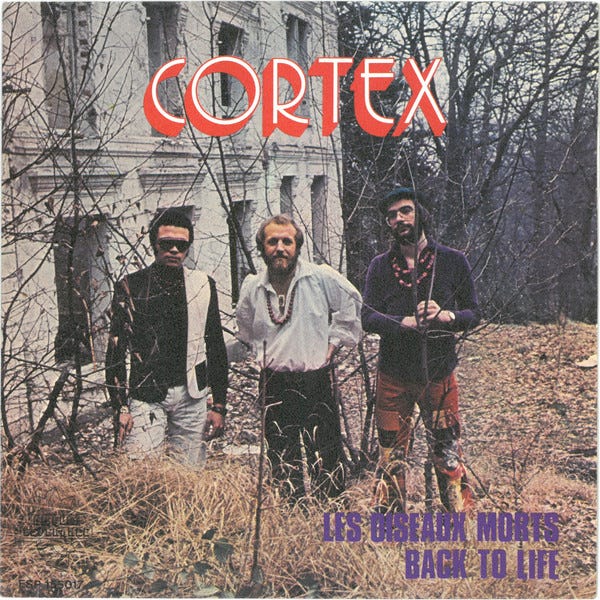 ---
Today's Micro-Chop newsletter was written by Andre Gee. Andre is a DC-born, Brooklyn-based freelance writer and beatmaker. Check him out on Twitter and IG and read more of his work on DJBooth, Medium, Micro-Chop, Okayplayer, UPROXX, and his more fire. newsletter.
MF Doom's 2004 album MM.. FOOD was a landmark moment of 2000s rap. It was the rare underground project that reached the consciousness of rap fans like me who were predominantly accustomed to the mainstream scene. One of the album's highlights is the Madlib-produced "One Beer," a winding tale of lyrical supremacy, autographed derrieres, and the everlasting adage that "few can do it, even fewer can sell it."
Doom gets into his zone atop a glorious sample of French band Cortex's 'Huit Octobre 1971." As Doom tears through the spastic breakbeat, background vocals soar in a wondrous loop. "One Beer" was many people's introduction to the legacy of Cortex, a band masterminded by legendary French musician Alain Mion. 
Casual fans may not understand Mion's musical impact, but your favorite producers do. He's reportedly France's most sampled artist, with Whosampled tracking 116 samples of Mion and 124 samples of Cortex (some overlapping). The five-piece band he formed in 1974 with musicians like Alain Gandolfi and Jeff Huttner is the sample source for some of 21st-century rap's most memorable moments, including Rick Ross' grandiose "Amsterdam," Wiz Khalifa's nothin'-to-somethin' ode "Visions,"  and Lupe Fiasco's lyrical masterpiece "Mural."
CD and vinyl distributor (and former independent music magazine) Forced Exposure called Cortex a "mythical" band, which is an accurate assessment of them and Mion. Alain Mion has no in-English videos available online. They have no Wikipedia page. There's not much information about Mireille Dalbray, the band's singer whose ethereal vocals serve as the highlight of so many Cortex-sampling compositions. But that mystery adds to their appeal. There's no gimmickry or stunt-sampling with Cortex, just a blank, gleaming canvas ripe for an MC to craft songs that sound like scribes from the heavens.
Mion's most renowned works with Cortex are Troupeau Bleu and Volume 2, which were released in 1975 and 1977 on the Paris-based Disques Espérance label. Both albums, like their entire catalog, are a skillful mesh of jazz, funk, soul, and rock. Troupeau Bleu in particular has been a goldmine for producers, especially in the past decade. 
Micro-Chop celebrates producers who have flipped samples in the most ingenious ways, but there's also no shame in taking the golden opportunity of looping a juicy opening of a track. That's what Madlib did with "Huit Octobre 1973" on "One Beer," a song that was originally recorded for the Madvillainy album. Producer Sledgren flipped the same section into an arguably more elegant soundscape for Wiz Khalifa's "Visions," a memorable moment from Wiz's 2010 coming out party Kush & OJ. While Doom stuck to his guns with abstract storytelling on "One Beer," Wiz used the canvas to rhyme from the precipice of stardom, noting "soon as I enter the room its red carpets and bitches with pretty smelling perfume."
Wiz's reintroduction of Cortex seemingly inspired more producers to explore the band's catalog, specifically Troupeau Bleu, throughout the 2010s. Whosampled notes just five usages before 2010, but dozens afterward. Since 2010, they've been sampled in songs by notable names like Fat Joe, Curren$y,  Logic, Dave East, XXXTentacion, Mellowhype, as well as Earthgang and J.I.D.
Rick Ross, who has one of the game's best ear for beats, has rapped over Cortex samples four times. "Everything A Dope Boy Ever Wanted" with Stalley is as covetous it sounds, with the then-MMGers trading braggadocious rhymes over a lithe loop from Troupeau Bleu's "Sabbat (3ème Partie)." 2014's "Oyster Perpetual" was a loosie that deserved to be on an official project, as producers Dav & Don dipped Dalbray's cascading "Oh! Lord" vocals into their composition like a strawberry in chocolate. 
But Ross' biggest moment with Cortex is the Cardiak-produced "Amsterdam," perhaps the biggest boss' grandest moment. He switched between slick talk, poetic exorbitance, and emboldened aspirations, rhyming, "I wanna be there when each one of my kids born / royal blood, hundred acres each to live on" over triumphant synths and a soaring sample from "Prélude à Go Round,'" which Tyga sampled in 2015 on the similarly lush "Palm Trees." 
Ross also joined Game and Jeezy for "Beautiful" from the Snowman's 2014 Seen It All: The Autobiography. The three explored their caviar wishes on a Black Metaphor-produced loop of "Chanson D'Un Jour D'Hiver," with Ross declaring himself the "first nigga with the Wraith, underneath the stars."
But no matter how well Doom, Wiz, or Ross ripped Cortex samples, no one has done it like Lupe Fiasco. In 2015, Wiz Buchanan, Keyz, and Quality Kid sampled "Chanson D'Un Jour D'Hiver" for Lupe's "Mural." The Tetsuo & Youth track contained 153 bars and 785 unique words that Lupe expertly dished out over the course of nearly nine minutes. "Mural" is one of the most impressive lyrical exhibitions ever, scored by a whirling piano loop and sprinkles of Dalbray's vocals that feed the ambitious track its momentary peaks.
Rap is inherently aspirational, and Mireille Dalbray's dreamy vocal runs are top tier material for beatmakers. Cortex's luxuriant catalog has become a tried and true well to compel opulence from the most humble of MCs. Despite Mion and Cortex's considerable influence, there aren't any available quotes about how they feel about their hip-hop legacy. It's a good thing the catalog speaks for itself. 
---
---
Thanks for reading, see you on Wednesday!