The Importance of Cassette Tapes as a Sample Source
How Evil Dee, Prince Paul, and Large Professor used cassette tape samples to make timeless music.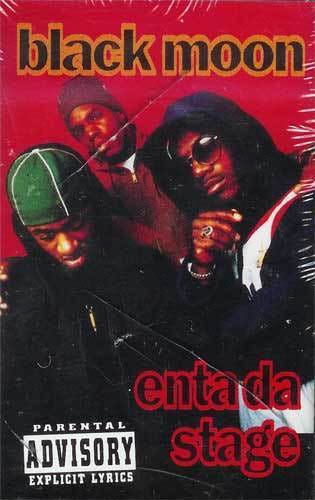 ---
Taking fragments of vinyl records is a rather well-documented and celebrated aspect of the history of sample-based music, but the importance of cassette tapes as a sample source is a lesser-known and equally fascinating part of the story. 
It's hard to say why cassette tape sampling hasn't been discussed more in interviews over the years, but it may be partially due to a rigid sampling and crate digging code of ethics that was pervasive during the 90s and some of the 2000s. Sampling enthusiasts seem more open-minded these days, but there was an era when recording sounds from a tape as opposed to an original vinyl pressing would have been frowned upon by some. 
Yet despite reservations from naysayers or concerns over sound quality, sampling from tape was sometimes a necessity—as sought after vinyl and high-end record players were too pricey for some emerging producers. And even if cost wasn't an issue, cassettes were a convenient, easy, and portable alternative. 
Beat scene icon Dibia$e, for example, made some of his early beats in the mid-90s by employing the services of a Sony Sports Walkman and recording samples off of radio. "My homie had the little receiver with the antenna on the back and I'd sample from the jazz station or whatever," he told me in a 2013 interview. "Sometimes the reception was bad, so I'd hold the antenna with one hand and use the other hand to press the button to start and stop the sample."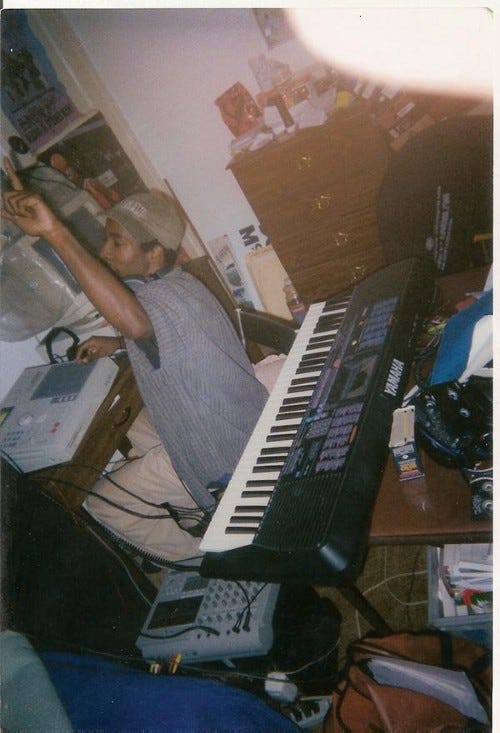 (An early photo of Dibia$e in his home studio.)
Sampling off of tape could also be a preferred option for producers who enjoyed the unique sound provided by cassettes. "A lot of times I would sample stuff, put it on cassette, and then sample the cassette back just to get a little bit of warmth to it," drummer, producer, and rapper J-Zone told me in a 2013 interview. 
In addition to liking the warmth of the tape, J-Zone also found that using cassettes allowed him to pull off impressive feats of DIY ingenuity. At the beginning of his career he would sometimes sample the high-speed dubbing feature of his cassette deck to cram more music into the sampler due to the E-mu SP-1200's limited sampling time. "It would sound like chipmunk shit," he told me. "You gotta piece it down because it's really fast. I would be able to squeeze two loops into the SP-1200, which was uncanny at the time."
Beyond giving Dibia$e and J-Zone the ability to experiment with unconventional methods during their formative years, cassette samples were also integral to several seminal rap releases. The lead single from De La Soul's ground-breaking debut 3 Feet High and Rising is one such early example.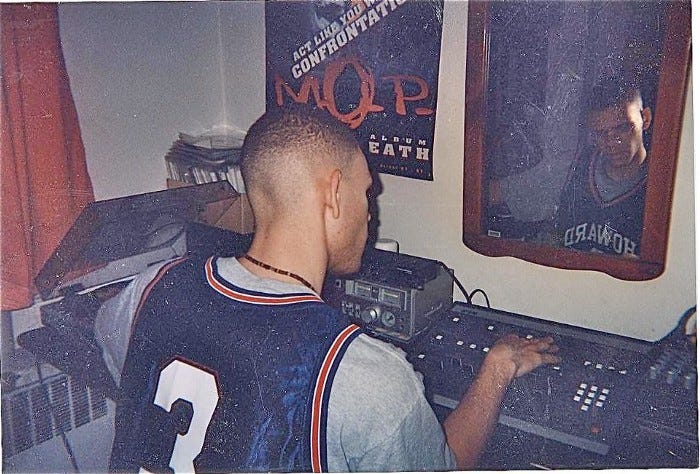 (An early photo of J-Zone using his SP-1200.)
After being enthralled when he first heard group member Posdnuos' pause-tape, rough cut version of "Plug Tunin'",  frequent De La Soul collaborator and 3 Feet High co-producer Prince Paul wanted to further expand the beat. He did so by adding a sample Cypress Hill would make famous two years later with "How I Could Just Kill A Man," a splice of James Brown, some piano sounds from Billy Joel--and a Liberace tape. 
As Paul recalled in author Brian Coleman's essential book Check The Technique, the Liberace idea came about when the group noticed an unattended cassette of his during a mixing session at Island Media. Never scared to push the boundaries of sampling as far as they could, De La and Paul decided they would use some of the famed musician's work to kick off the beginning of the song. "Like everything else we did, there wasn't much rhyme or reason to it," Paul told Coleman. 
Prince Paul also demonstrated his willingness to sample straight from tape while orchestrating The Gravediggaz morbid masterpiece 6 Feet Deep. When RZA showed up to a session one day with a tape full of samples, one particular splice of sound resonated with the group when he played it for them. When asked if they could use it for a beat, RZA was hesitant at first since his collaborator and friend RNS had originally discovered the sample. After working out the details of how they would credit RNS fairly, Prince Paul sampled straight from the tape for their brilliant and disturbing lead single "Diary of a Madman."
Further adding to the intrigue of the Gravediggaz' first single is the sound source RNS took the sample from. Though the song isn't rare by any means and can be easily identified nowadays, it was unfamiliar to the group at the time. According to Chris Pattinson's excellent 2011 HipHopSite interview with Prince Paul, when they grilled RZA on the sample's origins, he told them RNS had taped it off of a car commercial. 
Large Professor is another producer who pulled off the cassette sampling method with great success with Eric B & Rakim's "In The Ghetto." Sadly, the sample he used was first played for him over the phone by his close friend and mentor Paul C a short time before his untimely death.
When Rakim showed up to the studio after the loss of their mutual friend with a tape of samples Paul had given him before dying, Large Pro immediately recognized the song Paul had played him over the phone not long before. "I looped it up off the tape right there," Large Pro told Daniel Eisenberg in a 2012 Complex interview. "Rakim was like, 'Yo, I want the pauses in it. All the drops.'"
 Once the loop was set, Large Pro used a popular stereo multi-effects processor to make it sound just right. "I sat there and messed with that loop," he told Complex. "I threw it in the Publison, and did all of this chopping and all of that, and put it together."
Although the above mentioned examples are mighty impressive, the greatest feat of cassette sampling may belong to The Beatminerz' DJ Evil Dee, who handled much of the production work on Black Moon's seminal 1993 debut Enta Da Stage. Delivering an incredibly gritty aesthetic throughout, the perfectly muddied sounds are due to Evil Dee's use of cassette tapes during the album's creation. "We never brought records to the studio," he said in Check The Technique. "Everything we sampled was off of cassettes. That's why the album sounded like it did."
The sound of Evil Dee's production, paired with the cutting lyricism and vocals of Buckshot and 5FT, won the group much acclaim. So impressive was their first album that the group was awarded a then-coveted 4-mic review in The Source with some effusive praise from Luke Cage creator, executive producer, showrunner, and writer Cheo Hodari Coker. "Enta da Stage is a stunning debut that does not disappoint by any stretch of the imagination," he wrote in the November 1993 issue of The Source. "The only term that adequately describes Black Moon's smooth combination of funky jazz rhythms and ferocious vocals is 'elegant madness.'"
Though one might think the art of sampling off of cassette died some time in the 90s, it seems like it's still alive and well. Producer Sporting Life earned himself recognition for one of the more entertaining and interesting Rhythm Roulette episodes when he made an impressive, well-constructed instrumental out of dollar bin tapes.
With social media and the increased ease of sharing information, it will be interesting to see what details emerge in the future about the story of sampling directly from tape. If the existing documented examples are any indicator, there are still quite a few interesting tales waiting to be discovered.
---
Thanks for reading, see you on Wednesday!