Sade's "Smooth Operator" is a Demo Recording
How a lack of vocal training, no MIDI, and a traditional piano blended with a Fender Rhodes spawned the biggest hit from 'Diamond Life.'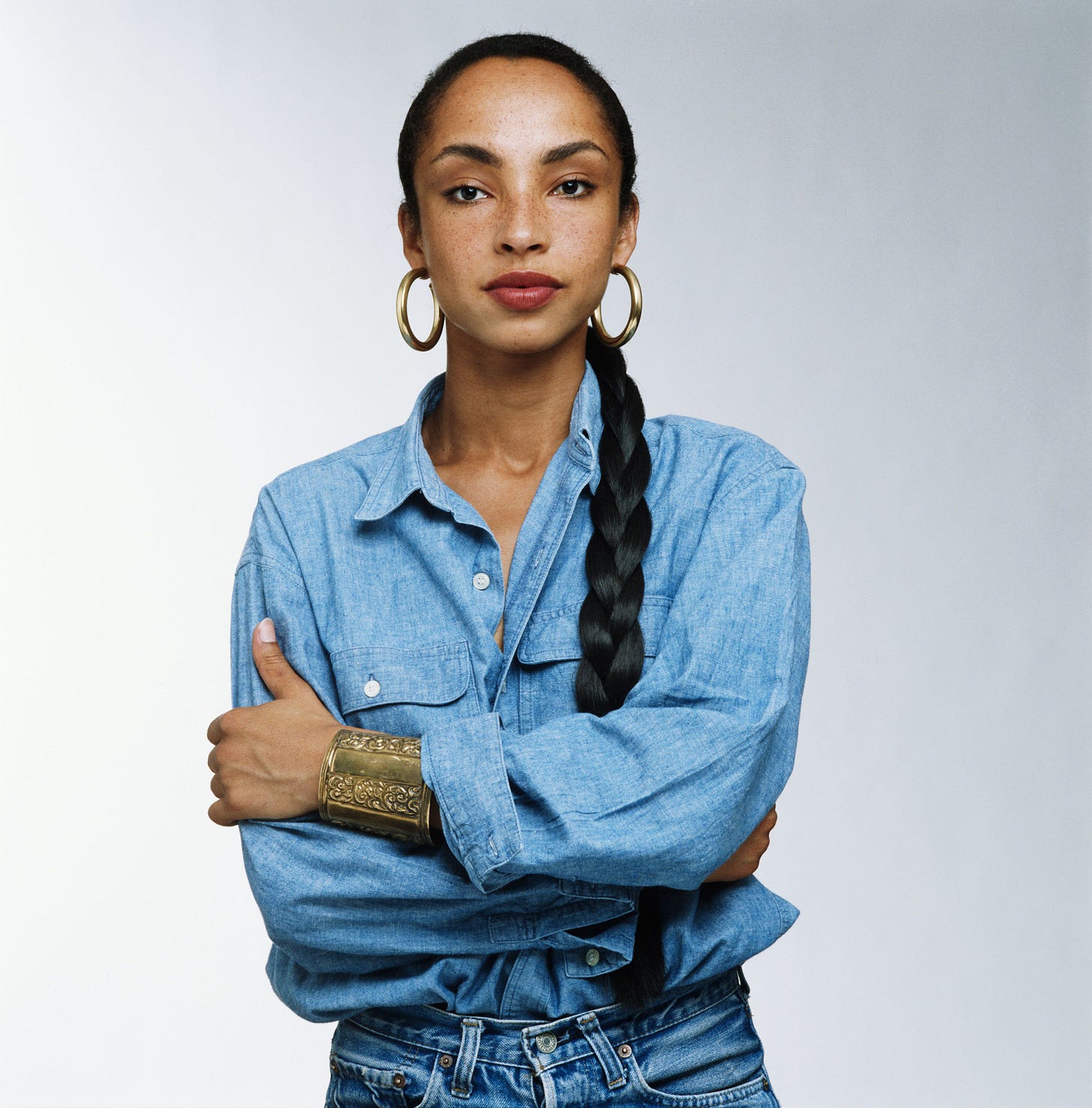 Welcome to Micro-Chop, a newsletter dissecting beatmaking, DJing, music production, rapping, and sampling — written by me, Gino Sorcinelli.
Micro-Chop publishes on Monday, Wednesday, and Friday for paid subscribers. Free subscribers receive Monday's newsletter.
Give feedback, send questions, or just say hi by emailing me at gino@bookshelfbeats.com.
---
Sade's "Smooth Operator" is a Demo Recording
It might come as a surprise, but Sade Adu never took voice lessons before hitting it big and selling tens of millions of records with her Sade band mates Paul S. Denman, Andrew Hale, and Stuart Matthewman. In fact, her earliest form of "practice" was rather endearing and innocent. "I sang in front of the mirror holding a hairbrush, like everybody does," she told The Sydney Morning Herald in a April 1986 interview.
Despite this lack of formal training, Adu proved that her ear beat out technical prowess from the very beginning of her legendary career. "I have no technical notion, but I know what sounds good and what doesn't," she told The Sydney Morning Herald. "It's an instinct."
This instinct proved beneficial when Sade first recorded unpolished 4-track demo tapes of "Your Love Is King" and "Smooth Operator" while residing in London and shared them with with Robin Millar, who went on to produce their first two multi-platinum albums. Immediately impressed by what he heard, Millar sensed that Adu's voice could take the group to the big time. "It was basic, but the songs were good—and then there was that voice," he told Helienne Lindvall in a May 2011 Guardian interview.
Overtaken by the potential contained on their rough cut demo, Millar booked studio time with Sade for a week so they could re-record songs and work on new material. His enthusiasm and belief in their abilities is something Sade band member Stuart Matthewman still remembered vividly many years later. "We recorded 'Your Love is King,' 'Smooth Operator,' and a couple of other tracks before we even had a record deal because he liked us, he thought we were good," he told ThaFormula.com in a September 2007 interview. "He wasn't sure if we were gonna get signed, but he just wanted to record us."
The sessions for re-recording "Your Love Is King" and "Smooth Operator" benefited from the unique moment in time when they took place. Though Musical Instrument Digital Interface (MIDI) was making its way into recording studios by way of synthesizers and drum machines like the Roland Jupiter-6 and Roland TR-909, using MIDI was not as commonplace as it would soon be in the coming years. This ended up working to the advantage of Adu, her band mates, and Millar.
Seeking to achieve a sound both distinct and different, they combined the keys of a traditional piano with a Fender Rhodes—a process that proved both grueling and extremely labor intensive. Though it took considerable time to find the right balance, the team's disciplined efforts paid off. By the time their first sessions were over, they had a unique and beautiful collection of songs.
Had Sade and Millar hit the studio just a short time later instead of when they did, the final recordings might have been something completely different. "Three years later you could do this easily, using MIDI," Millar told The Guardian. "But it probably wouldn't have sounded the same."
Millar believed Sade had hit the ball out of the park during their week-long studio sessions, but the group's manager had an exceedingly difficult time getting a record label to jump at their demo. It was a demoralizing experience, especially after what had seemed like a charmed music-making experience with many positive responses from those who had heard the project.
After Portrait Records—who were later absorbed by Epic—finally inked Sade to a deal, Adu and her band mates recorded the entirety of their 1984 Diamond Life debut in a mere month and a half. Cranking out 15 songs during that time, her instinct one again proved key—she believed a less is more approach would work best for their first official release.
By the time they were done subtracting elements from the album, six songs lay on the cutting room floor and Diamond Life ran for a total of nine songs at a somewhat pithy 44 minutes and 31 seconds.
Remarkably, the versions of "Your Love Is King" and "Smooth Operator" that you hear on the official album today are the demo versions the group laid down during their original seven-day endeavor with Millar. This must have been a bit of sweet revenge, as these are the exact same recordings so many labels had turned their noses up at. "We never remixed them or remastered them," Millar told The Guardian. "They're the same versions that were rejected by everybody."
Though Sade and Millar had overcome the initial negative reactions from non-believers and recorded a full-length album backed by Epic, they weren't quite done proving people wrong. Matthewman's brother, for one, had serious doubts about the potential of "Smooth Operator" as a radio hit. "No one is gonna play 'Smooth Operator' on the radio, it's not gonna happen," Matthewman recalled his brother saying. "You're kidding."
Though both "Your Love Is King" and "When Am I Going to Make a Living" had taken off in the UK, "Smooth Operator" proved to be Sade's breakthrough hit in the United States. Matthewman's brother, who was working in Miami at the time, was forced to eat humble pie not long after when he called to say that three different US radio stations were playing "Smooth Operator" at the same time. The song spent a grand total of 20 weeks on the Billboard Hot 100, eventually peaking at #5.
In the three decades and change since, Diamond Life has sold an excess of four million records in the United States alone. Sade's 1985 follow-up Promise fared equally well, earning a 4x platinum certificate from the RIAA.
Reflecting on the experience of making both records almost 30 years later, Millar credited Adu for trusting her gut and insisting on making each album something she thought was the best possible project for Sade—regardless of what record label people had to say.
In the end, it seems like her philosophy of addition through subtraction is one of the reasons Sade's early work has aged so well and continues to resonate with people all over the world. "I think that's one of the reasons they haven't dated, going back to the first album," Millar told The Guardian. "She threw out the uptempo tracks, because they didn't fit in."
---
Thanks for reading, see you on Monday!