Revisiting Lyn Collins' "Think (About It)"
A look at Collins' musical origins, her collaborative relationship with James Brown, and an exploration of her frequently sampled funk classic and some songs that flipped it.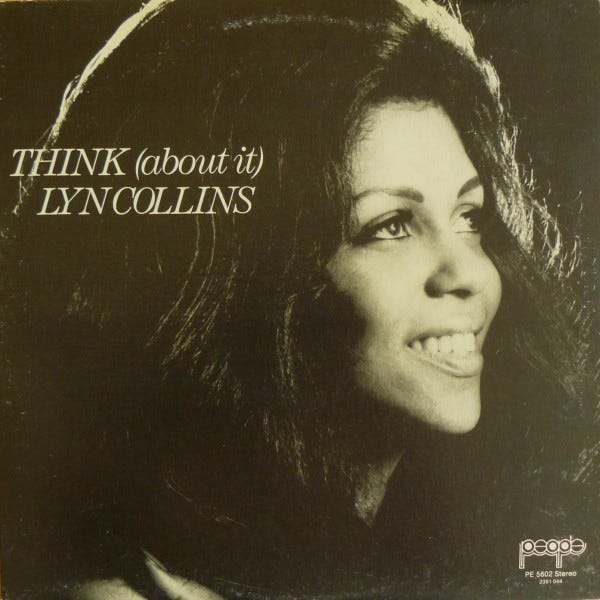 ---
Born on June 12, 1948, in Abilene, TX, Lyn Collins was a teenager when she first started to explore her vocal range. By age 17 she had laid down her first recording "Unlucky In Love" with Charles Pikes and the Scholars, a rare 7" recently given new life and reissued on the 2018 Numero Group compilation Basement Beehive: The Girl Group Underground.
After marrying a local promoter for the James Brown Revue a few years later, Collins sent Brown a demo recording that piqued his interest. He invited her to Georgia for a session in 1971 that produced the beautiful single "Wheels of Life," a true testament ot Collins' vocal abilities that later appeared on her full-length 1972 debut. When vocalist Vicki Anderson left the Revue for the second time at the end of 1971, it opened a door for Collins to become an official member of the ensemble.
Shortly after joining forces with Brown, Collins released several solo 45s in 1972 including "Oh Uncle Sammy" b/w "Ain't No Sunshine," "Me And My Baby Got A Good Thing Going" b/w "I'll Never Let You Break My Heart Again," and the James Brown collaboration "What My Baby Needs Now Is A Little More Lovin'" b/w "This Guy - This Girl's In Love With You."
It was her single "Think (About It)," however, that proved to be the most enduring work of her career. Later appearing on her debut record of the same name, the song used some vocal interpolations from The 5 Royals 1957 single "Think"—a tune Brown himself covered on 1960 on the James Brown And The Famous Flames album Think!.
With Brown taking on production duties and The J.B.'s handling instrumentation, Brown is also credited as the songwriter—though there is speculation Collins' herself penned the feminist lyrics of "Think (About It)." The opening talking/singing in particular where she tells the audience, "Do you guys know who I'm talking to?/Those of you who go out and stay/Out all night and half the next day/And expect us to be home/When you get there/But let me tell you something/The sisters are not going for that no more/Cause we realize two things/That you aren't doing anything for us/We can do better by ourselves," was especially bold and brave for the early 1970s.
The track's driving drumbeat, background vocals, infectious horns, and use of tambourine made it an instant hit. It continues to endure today, often appearing in throwback DJ sets and all varieties of reunions, weddings, and other celebratory functions.
A remarkable feat of artistry in its own right, "Think (About It)" also became one of the most-sampled songs in the history of recorded music. Interestingly, while some of Brown's handiwork like "Funky President (People It's Bad)" was interpolated or sampled in the very early years of rap music, it took a little bit longer for Lyn Collins' classic to find its way inside people's samplers.
Though it's difficult to say exactly why the song started to take root in 1987 rap beats, there are two important cultural touchstones from that year that likely played a key role in its reemergence. For one, "Breakbeat Lou" Flores and his late collaborative partner Lenny Roberts included "Think (About It)" on Volume 16 of their famed Ultimate Breaks & Beats series.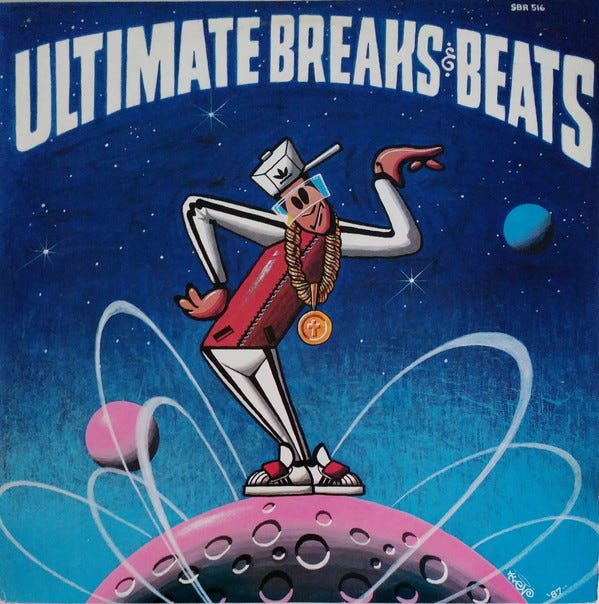 As was sometimes the case throughout the UBB series run from 1986 to 1991, Flores created his own edit of the song—extending and highlighting certain drums breaks that were especially ripe for DJs and producers. Just as his decision to slow the tempo on the drum break from The Winstons' "Amen, Brother" turned it into an instant sample essential, Flores' tinkering with the Collins' work undoubtedly turned on a lightbulb for many aspiring producers of the day.
(For more on the importance of
UBB,
read Robbie Ettelson's
indispensable Cuepoint oral
history from 2015.)
1987 also saw the release of E-mu's iconic SP-1200 sampler. The 1200, along with its SP-12 predecessor, helped spark a creative explosion in multiple elecontronic and sample-based genres throughout the late-'80s, early-'90s, and beyond. With "Think (About It)" featured in a prominent breakbeat compilation series and new sampling technology for producers to play with, Collins' music started making its way onto rap releases.
Clapham, South London natives MC Remedee and Susie Q—better known as the British rap duo Cookie Crew—are some of the first documented MCs to spit verses over a "Think (About It)" sample. Production trio The Beatmasters crafted the beat for "Females (Get On Up)" by using the Collins original and some creative scratches of Remedee and Q's vocals to further enhance the track. Though their sampling is relatively straightforward, The Beatmasters do an admirable job of assembling a party starter that holds up quite well 33 years after its commercial release.
The same year veteran producer 45 King used more ambitious sampling to craft Latee's neck snapper "The Cut's Got Flavor." Catching the drums just right to create an interesting and unique loop, the percussion sounds as though 45 King processed it with various effects to give it a distinct crunch. He shows his true sample chops here, building around his drums with some well placed horns and samples from The Fatback Band.
From South London to New Jersey to Miami, bits and pieces of Collins' recording started to circulate all around the world. 2 Live Crew co-founder Mr. Mixx drew from the "Think" drums in 1987 when he used them to build the Miami bass essential "Get Off Your Ass and Jam" for city pioneer Anquette. By expertly blending cuts of the 1975 Funkadelic song of the same name with the now-famous Collins percussion hits, Mixx created a memorable selection from Anquette's debut LP Respect.
With each passing year, producer's takes on "Think (About It)" sounded a little bit more daring. Kenny Dope, King Grand, and Todd Terry would throw in everything but the kitchen sink alongside "Think" when they co-produced the title track from Kaos' 1988 release Court's In Session. Using bits of Jefferson Starship's "Rock Music,' The Meters' "Handclapping Song," and James Brown's "Get Up, Get Into It, Get Involved," the three talented producers cranked out an enjoyable and somewhat chaotic feat of sample collage.
'88 also brought about new levels of commercial visibility for songs that sampled "Think (About It)." Inspired by Stafe's electro hit "Set It Off," Rob Base and co-producer William Hamilton used an overt flip of "Think" that perfectly wove together many peak moments of the song into the irresistible party starter "It Takes Two."
Base said in a 2018 Las Vegas Magazine interview by Matt Kelemen that he first had the idea to sample "Think" after hearing "a breakbeat album that all the DJs used to get." He was very likely referring to Volume 16 of Ultimate Breaks & Beats, though he didn't name the series specifically.
"It Takes Two" remains the best-known sampling of Collins' record over three decades later. It was also a career defining record for both Base and his late collaborator D.J. E-Z Rock and an important sample source in its own right. "It Takes Two" has since popped up on songs like the Scoop DeVille-produced Snoop Dogg track "I Wanna Rock" (2009) and the Gang Starr sure shot "Suckas Need Bodyguards" (1994).
The year after "It Takes Two" become a sensation "Think (About It)" had another magic moment when super producers Jimmy Jam and Terry Lewis layered a direct sample of the song into their backing track for Janet Jackson's "Alright." Powered by Jackson's incredible voice and powerful charisma, "Alright" became one of six #1 records from Rhythm Nation 1814.
Furthering the commercial hot streak for "Think," producer Dallas Austin used a tiny snippet of it at the 1:30 mark of "Motownphilly" from Boyz II Men's 1991 smash debut Cooleyhighharmony.
This list goes on and on and on. Lyn Collins' hit has been sampled nearly 2700 times in the past 48 years, though the true number is probably even more than that. She never scored another hit that matched the commercial impact of her early career triumph, but Collins released a second album Check Me Out If You Don't Know Me By Now in 1975 and stayed active throughout the years by lending her vocals to a wide variety of projects.
Many entries from her catalog beyond "Think (About It)" have also turned into well worn sample sources. Give one listen to tracks like "Rock Me Again & Again & Again & Again & Again & Again" and you'll instantly recognize its influence on rap records from over the years.
Sadly, Collins is no longer with us to enjoy her incredible legacy. She passed away from cardiac arrhythmia after returning from a European tour in 2005, a truly heartbreaking turn of events as she had planned to embark on more tours in the future.
Though no longer with us, Collins lives on through her music. The fact that producers from both the depths of the underground and the highest peaks of commercial success still draw from her work is a testament to the inimitable magic of her recordings.
---
If you enjoyed this article, please subscribe to the Micro-Chop newsletter to support independent music journalism.