Department Stores, Elevator Music, and Obscure Cassette Tapes
The incredible story behind Juicy The Emissary's 'Attention Kmart Choppers.'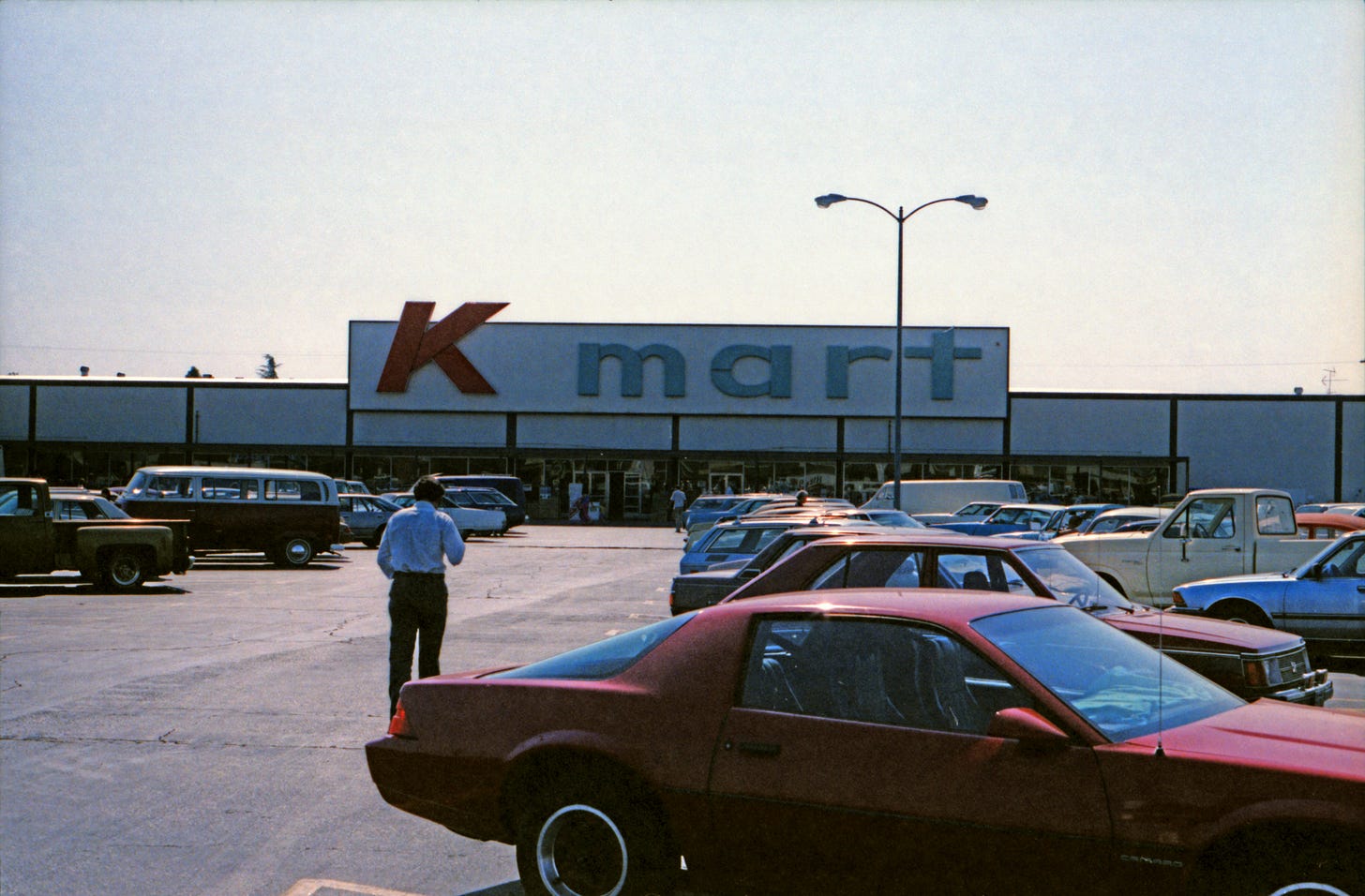 A Kmart store in Fresno, California circa 1984. (Credit: David Prasad)

Welcome to Micro-Chop, a newsletter dissecting beatmaking, DJing, music production, rapping, and sampling — written by me, Gino Sorcinelli.
Micro-Chop publishes on Monday, Wednesday, and Friday for paid subscribers. Free subscribers receive Monday's newsletter.
Give feedback, send questions, or just say hi by emailing me at gino@bookshelfbeats.com.
---
Department Stores, Elevator Music, and Obscure Cassette Tapes
When Aurora, Illinois resident and IT employee Mark Davis obtained his first tape recorder in 1980, the ability to capture sound at the young age of seven awakened a lifelong fascination with documenting and cataloging audio. "I had this thought in my mind where I wanted to preserve recordings that I made," says Davis. "I always felt that anything that was voice recorded should be preserved."
A resident of Naperville, Illinois during his younger years, Davis' fixation with audio preservation took an unexpected turn when he landed a job at the local Kmart in October of 1989. From his very first day at the once-great department store, he was intrigued by the Kmart-issued cassette tapes that played throughout the store during the day.
First manufactured by the Tape-Athon company and later churned out by Tower Sound and Communications, the Naperville Kmart ran the cassettes until the tape inside was threadbare before replacing them. "These things ran for 12–14 hours a day for one month straight," Davis explained in a 2013 YouTube video of his collection.
Davis described the songs on many of the tapes as "stock, generic, muzak, type of songs"— picture the soundtrack to a long escalator ride in a crowded mall or an extended wait in a doctor's office.
Listening to muzak on repeat for an entire work week might sound miserable to the modern music connoisseur, but Davis found himself enjoying the tapes after a while. "When you work these shifts and you hear these songs over and over again, it's not that you love the songs, but you get to know and you get to like them," he says. "And these were songs that…you didn't have Shazam [so] you had no idea where to get them."
As his first month at Kmart flew by and October gave way to Thanksgiving, Davis noticed the Tape-Athon cassette from October sitting near the store's audio equipment. With no policy on the books dictating the fate of expired tapes, the young and opportunistic Davis rescued it from the trash can.
After preserving the October tape, he continued saving cassettes from the local landfill for several years until he'd amassed quite a collection. "It wasn't like an obsession, but I really made a point of making sure that I had 'em," he says. "When I was in college I had people at the store that would keep them for me."
With the Naperville store now closed and Kmart continuing to shutter their doors across the country, Davis held on to the tapes for over a quarter century as a nostalgic reminder of both a bygone era of American consumer culture and a formative time in his life. "I was 16 years old and Kmart was my first job, which lasted for ten years," he told Kaleb Horton in a 2015 Vice interview. "I loved Kmart as a company and they were good to me and I met so many good friends."
Davis finally decided to upload his anthology of discarded media to the website archive.org in a collection called Attention K-Mart Shoppers in September of 2015. Filled with muzak, the occasional popular song, and original Kmart corporate ads, the tapes became an instant hit with audiophiles and defunct media junkies around the net, gaining over two million views in less than two years.
It wasn't long before the treasure trove of obscure sounds made its way into the hands of Denton, Texas producer and Street Corner Music artist Juicy The Emissary. An instant fan of Mark Davis' intriguing backstory and the music contained within each cassette, Juicy saw the opportunity to build an album out of a 59-tape archive as a perfect attention grabber for today's distracted music fan. "I really think having a gimmick is how you get people's attention," he says. "If you don't have a gimmick, pretty much nobody's gonna listen to your shit."
After previewing a few snippets of Davis' cache, Juicy spent several days listening to every single tape and capturing any sound that might fit his new project. "I basically wanted to use as much of the tapes as possible," he says. "Whatever was usable or really good I tried to find a way to fit that in there."
From there, Juicy meticulously sorted every sample into folders on his computer. Then he went to work deconstructing the samples and getting them ready for his compositions. Using the digital audio workstation Reason 4 and a simple M-Audio keyboard, he used the samples to play out different melodies and patterns that eventually turned into a collection of seamless tracks.
While discussing his unique workflow, Juicy is careful to point out that he doesn't like to restrict himself by dedicating each recording session to a specific song. "I don't think like, 'I'm working on a beat' — I'm just working," he explains. "Whatever I'm working on might turn into a beat, or two, or three beats."
Juicy started posting his Kmart creations in 2015 via a series of 11 Instagram videos and soon caught the ear of Street Corner Music founder House Shoes. Eager to add the project to his label's impressive instrumental discography that boasts esteemed producers like Jake One the late Ras G, Shoes reached out in the comments of the final Kmart-related Instagram video from late 2015. The short video compositions eventually morphed into Attention Kmart Choppers, one of Street Corner Music's crown jewels and Juicy's most impressive album to date.
Though his efforts might sound more ambitious than a traditional instrumental album, turning 59 retail store-specific tapes worth of samples into a fluid listening experience falls in line with a typical Juicy release. "With a lot of my projects I like to try to tie everything together to make on cohesive, extended listening experience," he says. "A lot of the samples that I'm looking for, I'm thinking of that application."
Mark Davis is well aware of Juicy's seamless instrumental journey—and he's thrilled with the creativity and vision needed to execute such a project. As he discovers more albums that use his cassettes as a primary sample source, Davis is proud that his odd collection inspired others to repurpose the sounds of his youth. "I'm actually quite honored," Davis says. "I find it very interesting because it shows me how creative people can reuse something that can kind of be monotone for face value. When I listen to it, it brings me back to the Kmart days."
(This is article was originally published on UndergroundHipHop.com in June of 2017. The link has since gone dead.)
---
Thanks for reading, see you on Monday!