Celebrating Ras G
Some recommendations and brief thoughts on the music of an icon.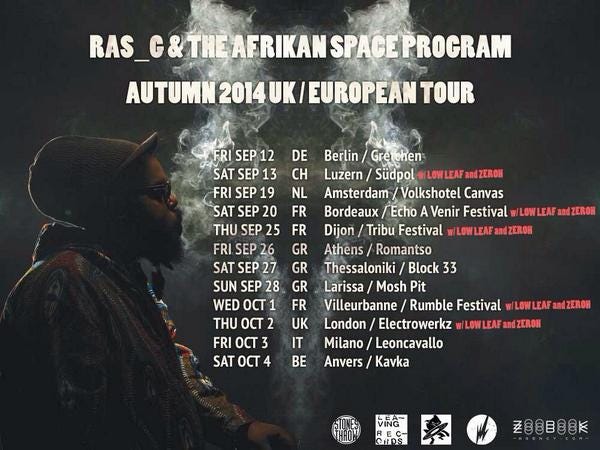 As many people subscribed to this newsletter already know, legendary Los Angeles beat scene icon Ras G passed away on Monday, July 29th. He was 39 years old. 
Ras was a beloved and revered figure, earning extremely high levels of admiration from his peers and fans. It goes without saying that people will be processing his death for quite some time.
When I first heard the news, I wanted to write something--but I wasn't sure what to say. It feels too early, and for some reason inappropriate, to do a long-form piece on his career and life. I'd like to write such an article eventually, but something like that would likely benefit from more contemplation and reflection.
Instead, I want to share some thoughts about Ras' music and an important documentary film he was a part of. Encouraging people to immerse themselves in his musical creations feels like the best use of time at the moment.
In the section below I offer a few suggestions from his vast catalog of incredible music. I hope you'll take some time out of your day to dive in and experience his work.
Also, if you can, please consider contributing to the GoFundMe page his family created.
---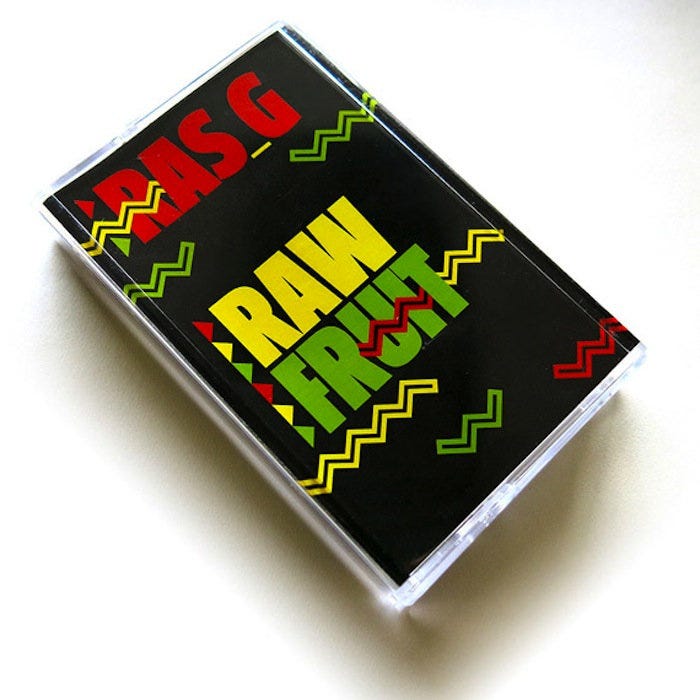 First released in May of 2013, the description Ras provided in the liner notes for his Raw Fruit beat tape is the perfect summation of this unforgettable listen. "Raw Fruit is my the name of my beat tapes," he wrote. "Freestyle beats shit i make 2 smoke weed to ... I just make em, record em, and on 2 the next one ... RAW SHIT, no rules just … all out, fuck it." 
This entire project has an indescribable energy to it. It's almost like you're in the studio listening to Ras drop a live set, as the beats flow together seamlessly throughout. Each track clocks in between a minute or two in length, and the quick transitions from beat to beat add to the power of the overall listening experience. 
The album's first three songs "Raw Fruit," "BuzzLightYear," and "HouseParty 1 (VHS bootleg version)," are all pieces of neck-snapping musical mastery--gritty as hell production that will make you want to break something they're so damn funky.
Ras also demonstrates his full range as an artist on the album, as songs like the beautiful "Been a Min" provide a much different listening experience than the beginning of the tape. 
In short, listen to this record—now.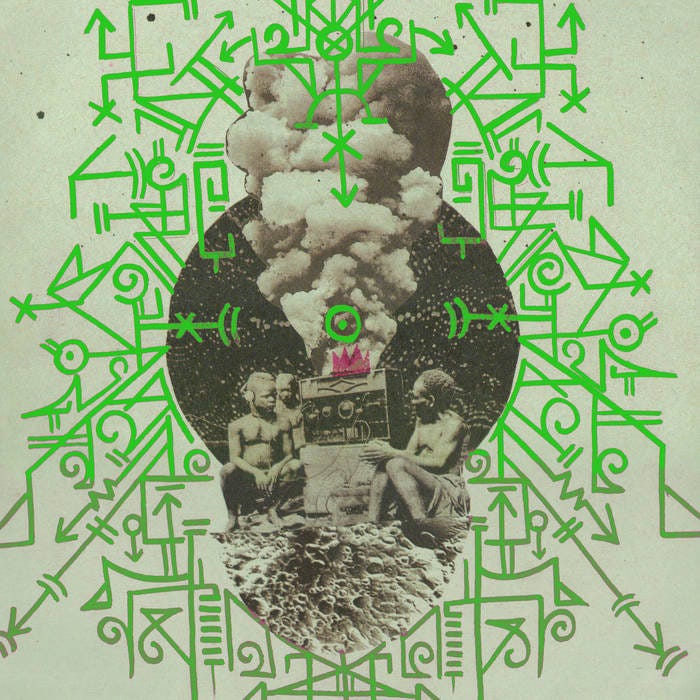 Released in 2014, Down To Earth Vol. 2 is an equally potent listening companion to Raw Fruit. The record served as Ras G's homage to himself as a teenager, when he was still an aspiring producer and not the artist we know today. When discussing the album with The Source's NOTUPSTATE in a 2014 interview, Ras said, "my younger self spoke to me more on this project." 
He also likened the experience of listening to the album to a comforting meal, telling The Source, "I think it's more accessible to people's ears. It's like comfort food…All my other projects are straight Ethiopian food which is my favorite food…but this record is a veggie burger with sweet potato fries."
The highlights on Down To Earth Vol. 2 far exceed the limitations of this article, but the album's second cut "Take It Slow" is a leading candidate for my favorite Ras G beat of all time, while the somber "Polo Jacket & Dashiki" demands several repeat listens.
On "Uno Uno," Ras flexes his ability to take a well-known sample from a famous group and convert it into something completely his own. "Fly Away" makes good use of a lush, haunting vocal sample, as Ras builds an impressive three-plus minute track with the vocals—both filtered and unfiltered—as the foundation. 
The loose, free-flowing "Love and Peace," which Ras told The Source "sounds and feels like Leimert Park on Sundays," is yet another standout moment that demands the listener's full attention as the album draws to a close.    
Once again, words kind of fail to adequately describe Ras G's work. Just listen to the album.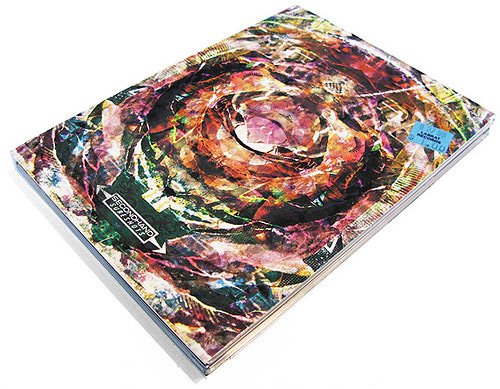 Secondhand Sureshots Documentary
Described on the Stones Throw website as "a filmed experiment in creative sound recycling," this 2010 documentary film from Dublab directors Bryan "Morpho" Younce and Mark "Frosty" McNeill features Daedelus, Nobody, J.Rocc, and of course Ras G, wading through stacks of vinyl in Los Angeles with the instructions to make new music out of five discoveries from their explorations. 
Though Secondhand Sureshots was already an invaluable piece of documentation on the art of crate digging and beatmaking, it now holds even greater significance. There are a few good videos online of Ras performing live and making music in his Spacebase studio, but this film offers viewers one of the most intimate and extended looks at his creative process ever captured on film—from flipping through records in the thrift store to the ashed blunts on his turntable.
In one especially poignant part of the movie, Ras explained his relationship with the samplers he employed to make music throughout his career. It's a great bit of insight into his music making philosophy and Dublab deserves all the credit in the world for capturing and preserving it. "It's you breathing life into the machine," he said around the 18:32 mark. "I turn on that machine, it ain't nuttin' in it. I gotta put everything in that joint. Every kick, snare, high hat—whatever."
This film is required viewing if you want to achieve a deeper appreciation for Ras G's music and the art of making beats.
As I wrap up today's newsletter, I want to leave you with a quote from when I interviewed Ras over the phone for a 2017 Micro-Chop piece. (Thank you Dibia$e for connecting us and making this interview a reality.)
He was a an amazing interview subject, full of insight, thoughtful, and very funny all at once. During out talk he dropped gem after gem after gem—I may need to go back and transcribe the entire Q and A for documentation's sake at some point.
But my favorite part of the conversation happened at the end when I pushed him a bit to divulge some specifics about a few of his upcoming projects.
He politely refused, and his response was priceless:
"I don't speak marketing talk, I don't speak industry talk. I don't speak that shit," he told me with a laugh. "It's hard to explain man, you gotta check it out. I'm a music man, I speak through feelings."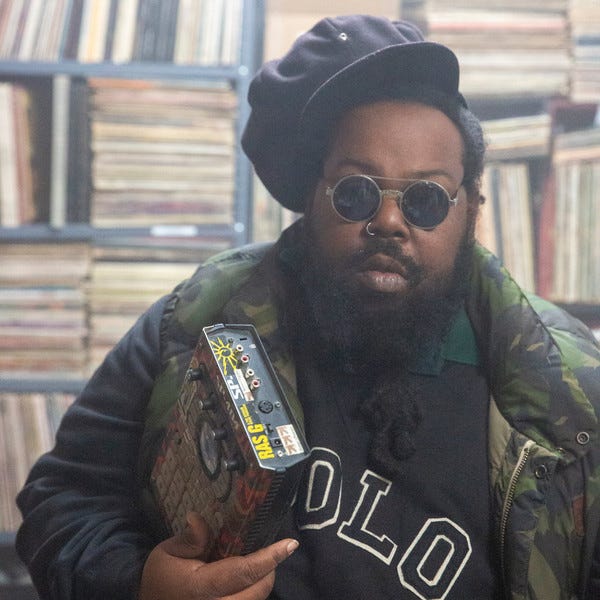 ---
(Due to special circumstances, today's newsletter is being made available to everyone.)