"There Really Was a Science to That Shit": A Look Back at 'Stunts, Blunts, & Hip-Hop'
Jazzy Jay's mentoring, label headaches, innovative production techniques, and the making of a classic.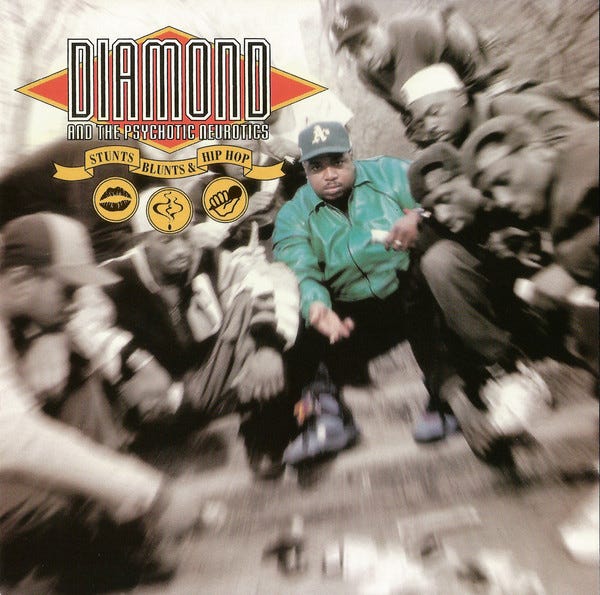 ---
Diamond D grew up watching rap music and hip-hop culture evolve in the Bronx's Forest House projects during the 1970s and 80s. When his parents decided to enroll him in a Catholic school at a young age, the religious setting couldn't prevent him from exploring the neighborhood on his own terms. "Just because parents pay for their child to go to a private school doesn't mean that the kid can't be a bad-ass," he told Brian Coleman in the excellent book Check The Technique Volume 2. "I went to a lot of park jams and shows back when I was younger. I wasn't supposed to go, but I'd always find a way."
After catching DJ sets from scratch inventor Grand Wizard Theodore and other pioneers, the young Diamond was eager to find out which records DJs were spinning. "My thing was just the beats," he told Fuse in a 2013 episode of their Crate Diggers video series. "The breakbeats, that's really what intrigued me."
Not content to sit on the sidelines, Diamond started sneaking glances at DJ's record labels so he could identify the breaks they were using. "Sometimes I might stand by the ropes for two or three hours, just trying to get a glimpse of the album covers," he told in Crate Diggers. "I'm a little kid doing this—10, 11 years old. That's when I really, really got into wanting to collect beats."
It wasn't long before Diamond transitioned from spectator to performer, getting his start behind the turntables before flexing his skills as a producer a few years later. "I started out DJing in the parks," he said told Dana Scott in a 2015 HipHopDX interview. "And that was my first love—as a deejay."
Even though DJing provided a constructive outlet while Diamond was growing up in the Bronx, the positive energy often found at block parties couldn't mask the harsh realities of 1980s New York—he saw plenty of crime, desperation, and poverty that would later influence his songwriting process as a rapper. "Ronald Reagan's solution for low-income people was to give 'em some blocks of cheese and some fuckin' butter!" Diamond told Robbie Ettelson in a 2014 Unkut interview. "They had the wolves out there starving, so I was just rhyming about shit I was seeing."
Diamond came close very to getting swallowed up by the street life himself before Zulu Nation member and hip-hop pioneer Jazzy Jay stepped in and provided some mentoring. It didn't take long for the two artists to develop an incredibly close bond, so close that Jay's house and studio quickly became a second home. "Diamond slept at my house," Jay told Shams Sharieff in a 2017 Mass Appeal interview. "Slept on the floor, on the bed. He slept in the studio."
The extreme kindness Jay showed Diamond in his younger years is something he continues to marvel at today. "Jazzy Jay saved my life, on everything I love," he told Unkut.
As Diamond intensified his focus on DJing and built an encyclopedic knowledge of records, he started producing for MC Master Rob as part of the two man group Ultimate Force in the late '80s. Despite finding minor success with their single "I'm Not Playing," UNI/MCA was shelved the album Diamond and Master Rob recorded and it stayed in a vault until 2007 when Strong City/Traffic released it.
After the group's situation with UNI/MCA fell through, further label issues with Capitol Records created a new set of headaches. Diamond, who had already wanted to explore the possibility of a solo career before the issues with Capitol, eventually inked a deal with Chemistry/Mercury/PWL America as an insurance policy.
When his situation with Capitol and Ultimate Force eventually fizzled out for good, he focused on other production ventures and eventually started recording Stunts, Blunts & Hip Hop in 1991. With "Best Kept Secret" already recorded and several instrumentals in the stash when work on the project began, Diamond utilized the keen ear he'd developed as a DJ and producer to set his sound apart from other beatmakers of the day. "Back then, I would just sit around with records and try to find horns that would match, because the horns had to be in the same key [as the bass line]," he told Daniel Isenberg in a 2011 Complex interview. "There really was a science to that shit."
Another technique Diamond used to separate himself from the pack was pitching records up drastically, sometimes sampling them at 45 rpm on the turntable. He used this strategy on "A Day in the Life" and "Sally Got A One Track Mind"—a beat he made in 20 minutes according to his Unkut interview.
Despite only taking 20 minutes to create, "Sally" become one of the defining songs on the album. It even made a special impression on people like Jazzy Jay who were there to witness its inception. "You could sit there and hear the same song over and over again while you make it. By the time you're finished and go to mastering stages, you'll probably never want to hear it again," he told Mass Appeal. "This was one of those songs that kind of defied that rule of thumb."
Beyond "Sally," it's remarkable how well Stunts, Blunts & Hip Hop stands up against the test of time. Some albums from the same era sound slightly dated now, much as it pains me to admit it. Diamond's production is so damn funky and nuanced, it will probably sound just as good 25 years from now. From pitching up records to using filters to get the samples sounding just right, Diamond was in a class of his own in 1992—taking elements of the popular production techniques at the time and evolving them in his own way.
(This article is a modified and updated version of a story that was originally published on Micro-Chop.)
---
Thanks for reading, see you on Friday!