The Making of T.I.'s "What You Know"
DJ Toomp's origin story and masterful sample spotting, Wonder Arillo's laptop replays of Robert Flack, and the meticulous creation of a classic.
Welcome to Micro-Chop, a newsletter dissecting beatmaking, DJing, music production, rapping, and sampling — written by me, Gino Sorcinelli.
Micro-Chop publishes on Monday, Wednesday, and Friday for paid subscribers. Free subscribers receive Monday's newsletter.
Signing up for a paid subscription for $5/month or $43.33/year helps Micro-Chop provide loyal readers with new and exclusive articles and interviews.
Give feedback, send questions, or just say hi by emailing me at gino@bookshelfbeats.com.
---
The Making of T.I.'s "What You Know"
Atlanta hip-hop pioneer DJ Toomp's love for altering sounds and making music began with the tutelage of his father Alphonzo 'Al' Davis. Briefly signed to Buddha Records as a member of a member of the funk/soul quartet The M.V.P.'s during the early 1970s, Toomp still remembers how his dad would teach him different elements of music composition during his adolescence. "My father was the lead singer [in the group] and he can still sing his ass off," Toomp told XXL in a 2008 interview. "We used to sing in the car together and he used to teach me harmonies."
Davis also helped his son cultivate a deep reverence for vinyl records. While many parents in the 70s and 80s wouldn't dare let their kids touch their turntables and record collections, Toomp's experience was the exact opposite. "My dad used to let me flip through his records and just listen to shit, around 9 or 10," he told Genius in a verified comment from 2016.
It was during these listening sessions that he stumbled upon Robert Flack's "Gone Away," which would provide the foundation for his biggest record many years later.
Unfortunately, his father's career in the industry didn't last long, as side hustles outside the bounds of the law led to his eventual incarceration. Other relatives who also played a major role in Toomp's life experienced even more devastating outcomes. "My dad had to sit down and went to jail for some years," Toomp told Mosi Reeves in a 2007 Creative Loafing interview. "My uncle, he got murdered."
Despite the sad end to his father's career and the pain of losing his uncle, Toomp is still grateful for the lessons they bestowed upon him while he was growing up. "I can definitely say I learned a lot from them," he told Creative Loafing.
As he entered his teenage years, rap music and hip-hop culture were making their presence felt in Atlanta. They were also making their way to the big screen, much to the excitement of a 13-year-old Toomp. When he sat down at a local theater in 1983 to watch the movie Wild Style, the iconic scene where Grandmaster Flash cuts up records in his kitchen resonated with Toomp in a way other childhood activities never had. Once the movie was over he knew he had to try his hand at DJing.
A few years later Toomp was spinning records at lunchtime during the school day and selling people custom mixtapes for $5 to $10 a pop. At only 16 years of age, he'd already procured his first songwriting credit with classmate and Atlanta MC Raheem the Dream—all while developing a sense of how to work his way around various pieces of studio gear.
When Miami bass music started to spread from Florida to Atlanta, Toomp became even more of an active participant in the vibrant scene taking place around him. After locking down a residency at Jellybean's Skating Rink, a locale that later inspired the 2006 file ATL, he won a major Atlanta DJ competition and caught the eye of esteemed bass artist and Luke Skyywalker Records/2 Live Crew associate MC Shy D. Toomp relocated to Florida in the late 80s to cement their creative partnership and produced cuts for Shy D like "I Wanna Dance" and the 1988 down south hit "Shake It."
As the 80s gave way to the 90s Toomp continued his hot streak by producing 2 Live Crew's "In The Dust" for the New Jack City soundtrack. But bass music lost steam with the general public as the decade wore on. With most of his production credits sitting firmly within the genre, his opportunities to work with other artists started to slow down.
In 1997, Toomp's career gained momentum again when he locked down three beats for Lil Jon & The Eastside Boyz' Get Crunk, Who U Wit: Da Album. He also met a then-17-year-old rapper and PSC group member named T.I.. The two formed an instant bond and Toomp went on to produce six songs for T.I.'s 2001 LaFace debut I'm Serious, including the minor hit "Dope Boyz."
Though T.I. and Toomp laid down enough tracks together to fill several Micro-Chop articles, 2006's "What You Know" was the record that forever changed both of their careers. One of Toomp's earliest tracks made with Propellerhead's Reason software, he credits "What You Know" collaborator Wonder Arillo for showing him how to synchronize the software with his MPC.
The two producers first connected while Arillo was just a senior at Georgia State University. Using his own four-track, a microphone gifted to him by his father, and whatever gear he could get his hands on at school, Arillo had spent his entire college career honing his musical craft and building a broad range of skills.
When a mutual friend of both producers cut a song with Toomp and was looking for an inexpensive place to mix it, Arillo jumped at the opportunity to meet the Atlanta legend. "It turned out that Toomp had just bought ProTools for his studio, so I immediately volunteered to help set it up and teach him how to use it," Arillo told Rap Industry in a 2013 interview. "In return, he showed me how to use a lot of his equipment. The relationship grew from there."
In addition to newfound technology that Arillo showed him how to use, Toomp utilized his deep collection of vinyl to find the appropriate inspiration for "What You Know," often going to the end of songs to find hidden sample sources and inspiration. "Some of the end-parts of a lot of those records from the 70s be the most musical part with the most feeling," he Linda Hobbs in a told 2012 Complex interview. "A lot of joints that I've actually sampled is usually the end part."
As he messed around in Reason, Toomp revisited the end part of Roberta Flack's "Gone Away," a song that had held a special place in his heart since childhood. "I used to love that part," he told Fuse TV for a 2012 Crate Diggers episode while describing the song's ending. "It used to almost bring tears to my eyes. I always remembered that melody."
Unfortunately, Toomp's love for the song didn't necessarily equal initial success. Unable to make the sample work they way he wanted, he employed extensive sample chopping with his ASR-10 to try to make the pieces of the puzzle fit—all to no avail. "I tried looping that sample and it didn't work," he told Jeff "Chairman" Mao in a 2008 Red Bull Music Academy interview. "I broke it down on the ASR into like 20 pieces and it still didn't fit so I decided to just play it all over."
Beyond Toomp's longstanding history with "Gone Away," it also seems like Arillo played a key role in pulling it back out of his crates for sampling purposes. "I just found that record in his studio," he told The Good HenneC Show in a 2015 video interview. "I couldn't get the sample right, I was trying to sample it and chop it up."
According to Arillo, the sample had too many musical elements happening at once to chop up and rework, so he decided to replay it. "I recorded a little snippet of it, put it on my computer, and just went home and went to work in my bedroom and figured it out note for note," he told SpitYoGame.com in a 2006 video interview. "Then I put the different instruments and stuff, like the synthesizers and all that. Basically, I had the whole thing fully orchestrated, but it was like a slower version."
Acknowledging that his drums were somewhat lacking at the time, Arillo brought the rough version of "What You Know" back to Toomp, who absolutely loved it. Seeing that Arillo's rough draft needed some further polish, Toomp altered the speed of the sample and reworked the drums with his MPC. "He sped it up, totally re-did the drums on his MP with all his own drum sounds," Arillo told SpitYoGame.com.
Toomp also worked on the song arrangement, wove in the bassline, and provided some additional bells and whistles. "I marinated with it for a few days, put the track around it, the bass line, all the extras," he told Genius.
Now that Arillo and Toomp had the track finalized, Toomp shopped it around to find the appropriate artist. 8 Ball & MJG cut a song to it, as did Benzino and Baby. Jeezy also almost ended up with the beat, but a bad case of strep throat prevented him from utilizing it right away.
Despite the interest generated by the instrumental, Toomp still hadn't heard a final product from the above-mentioned rappers that stopped him from playing it for other interested artists. That's when T.I.'s team approached him, told him about the ATL movie the star rapper was slotted to appear in, and requested a hit record for the film.
When Toomp came to the studio and played the beat, everyone's enthusiasm and T.I.'s desire to record to it right away let him know he had something special on his hands. "The hook came within 10 minutes," Toomp told Nathan Slavik in a 2014 DJ Booth interview. "He did the first verse when I was there, then, later on, he finished it like two days later."
T.I. credited his incredible expediency in coming up with songs for the King album to his desire to share his experiences with the world. "Most of these records are done in like a half hour because I had so much to say, so much on my mind," he told John Kennedy in a 2016 Genius interview. "I wasn't writing at all."
As the club, radio, and video play for the song reached meteoric heights, "What You Know" went double platinum, won a Grammy, and climbed at the way to #3 on the April 2006 Billboard Hot 100.
Artists who had initially requested the instrumental may have been a tad salty about their missed opportunity at first, but they eventually acknowledged that Toomp had made the right decision. "Some people took it kind of hard, but at the end of the day they had to basically commend me," he told Complex. "They were like, 'We wouldn't have been able to do what this song did. We're glad that you let T.I. get this record.'"
The success of the track led to a whole slew of opportunities for DJ Toomp that hadn't been there before, including production credits with Jay-Z and Kanye West. "That opened a lot of doors, because it showed another side of my production," Toomp told Red Bull Music Academy. "It went way beyond the down-South bass and the drums. It was more musical, and it was more like an anthem and a lot of people wanted that sound."
"What You Know" was also a watershed moment in Wonder Arillo's life, though his official job title with regards to the track remains a bit opaque. He indicated in the 2006 SpitYoGame.com interview that he was not credited as co-producer inside the King CD booklet, but went on to say that the people at Grand Hustle/Atlantic did acknowledge him as co-producer as well as a songwriter and compensated him appropriately.
And when a debate regarding his role in making the record jumped off in the Future Producers forums, he stepped in to clarify. "My Grammy certificate says co-producer," he wrote in a 2008 post. "Technically and officially, DJ Toomp, my mentor and big homie, produced the song. However, I am credited as a writer."
Arillo further explained that the song was a collaborative effort and indicated that his feelings about "What You Know" and his resulting credits are very positive. In his eyes, Toomp's production took his idea from an intriguing rough draft to the enduring classic it is today. "As far as the creation of the beat (not the production of the song) Toomp and I did that TOGETHER," he wrote on Future Producers. "I did start the basic idea on Reason on my laptop and brought it to him to help fill it out and make it into a professional production, which he did masterfully."
For those wondering if Arillo's feelings of gratitude regarding the experience have changed in the past decade, his 2015 The Good HenneC Show interview should put any questions to rest. "It gave me financial freedom to be able to put time into music and to be able to take care of a new daughter that I had," he said. "I don't know how I would have done it, man. It's a gift from God."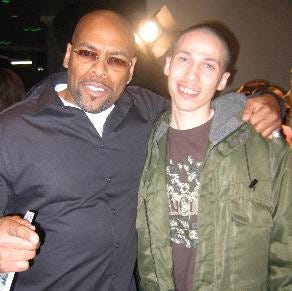 (This article is a modified and updated version of a story that was originally published on Micro-Chop.)
---
Thanks for reading, see you on Wednesday!