The Making of Audio Two's "Top Billin'"
An examination of the unusual drum pattern that turned a b-side into a hip-hop classic.
Welcome to Micro-Chop, a newsletter dissecting beatmaking, DJing, music production, rapping, and sampling — written by me, Gino Sorcinelli.
Micro-Chop publishes on Monday, Wednesday, and Friday for paid subscribers. Free subscribers receive Monday's newsletter.
Give feedback, send questions, or just say hi by emailing me at gino@bookshelfbeats.com.
---
The Making of Audio Two's "Top Billin'"
Long before he programmed one of the most-famous drum patterns in hip-hop history, Milk Dee started rhyming at a mere nine years old. A true pioneer, the Audio Two MC spit his first rhymes during a time when rap radio shows didn't exist and young listeners hunted down their favorite artists on DJ mixes and bootlegs. "It was an underground thing," he said in an October 2007 RiotSound.com interview. "If you could get your hands on a mixtape back then you had gold."
Growing up in Bed-Stuy, Brooklyn during the 1980s, Milk demonstrated an early confidence with DIY recording techniques by putting together his own demos without access to proper studio equipment. "I would just play the records and record straight to tape," he said in a July 2008 Fat Lace Magazine interview. "It was just one take."
Showing a determination uncommon for someone his age, Milk's music transitioned from homemade demos to the airwaves when he recorded a community service-minded track about cleaning up New York. Listeners quickly voted the song number one when Medgar Evers College's radio station held a call in contest.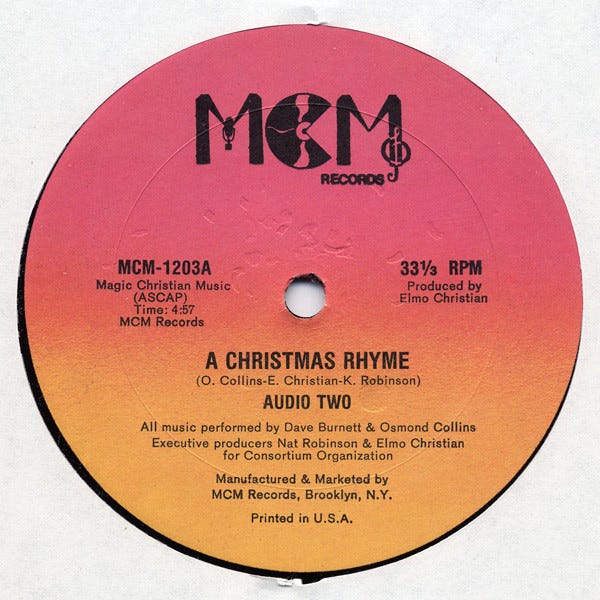 By 1985, Milk recorded and released the "A Christmas Rhyme" / "Audio Two's Jam" 12-inch with his DJ and Audio Two partner Gizmo. He also started producing tracks for his half-sister MC Lyte, composing many of the beats from her breakthrough debut Lyte As A Rock just a few years later.
Though he'd found a way to land a number one song on college radio and record a two-sided single at a young age, not everyone in the industry welcomed Milk and MC Lyte with open arms. "They said I sounded like a girl and she sounded like a boy, and you shouldn't curse on records," he told Fat Lace Magazine.
Despite the naysayers, Milk and Lyte continued to hone their respective crafts. One fateful night Milk decided to make a new beat for a Lyte remix by taking the kick, snare, and hi-hat from The Honeydrippers' famed "Impeach The Presdient" drum break. Then he employed an interesting combination of tools to get the sound just right. "I used a Boss foot pedal sampler," he told Grouchy Greg in a 2007 AllHipHop.com interview. "It only samples two seconds, you can''t save it."
Triggering the samples with a Roland TR-707 drum machine, the extremely finite sampling time of the foot pedal sampler ended up giving the drum pattern an off kilter yet undeniably catchy vibe. Unbeknownst to Milk, he had just MacGyvered what would soon become one of the most sampled rap songs in the history of the genre.
Stetsasonic member and song co-producer Daddy-O remembered the sequence of events slightly differently and even recalled a different sampler being used to compose the beat. "I'd been trying to sample 'Impeach The President' but the SP-12 only gave you x-amount of time, so Milk couldn't get the full loop in there," he told Ryan Procter in a 2013 Old To The New interview. "So all he got was the 'boom-boom-kick' and that was it."
Despite this discrepancy, it seems like the foot pedal sampler is the piece of equipment Milk used to produce "Top Billin,'" as he recalled using it in both the AllHipHop.com and RiotSound.com interviews.
According to Daddy-O, once he and Gizmo heard the Milk's beat he performed "Top Billin'" for them on the spot. As soon as Daddy-0 heard the stuttering drums and Milk's powerful verses he knew they had a special record on their hands. "I told Milk right there, 'This is a Red Alert classic,'" Daddy-O told Old To The New.
Even though they believed "Top Billin'" had the potential to make an impact, Gizmo, Milk, and Daddy-O decided to tuck it away on the b-side while "Make It Funky" served as the a-side to their first single since "A Christmas Rhyme" / "Audio Two's Jam." The idea was to make the DJs feel special if they discovered the record and helped break it. According to Milk, it wasn't quite so easy. "We got a lot of resistance," he told Fat Lace Magazine. "It wasn't played. We kept pushing and pushing, six months went by, they still wouldn't play it."
And after Daddy-O had expected Red Alert to embrace "Top Billin'" with open arms, the famed DJ actually wanted very little to do with it. "We serviced Red Alert with 'Top Billin'' probably fifty times," Milk told told Fat Lace Magazine. "When he'd see us coming he'd start running."
Thankfully, college radio started to give the some love eight months after it first came out. When Marley Marl gave it regular play on the radio it rapidly took on a whole new level of popularity.
Released in late 1987 and running just under three minutes, "Top Billin'" became a staple on New York radio and in live DJ sets. Though it didn't chart or sell a million copies, it continues to endure thanks to Milk's brilliant drum programming, sample-friendly voice, and memorable delivery.
According to the website WhoSampled, other artists have borrowed bits of "Top Billin'" an incredible 288 time—perhaps most famously on Mary J Blige's "Real Love" and 50 Cent's "I Get Money."
Milk seems very happy with this high frequency of sampling and sees the requests for clearances as a compliment. "I look at it as an honor for people to use me," he told AllHipHop.com.
Even in the case of "I Get Money," where the sample wasn't cleared until after the song came out, Milk doesn't take offense. "I'm never worried about being compensated for it," he told RiotSound.com. "Really, if they put [the song] out before they clear [the sample] it puts us in a better bargaining position."
Perhaps even more important than the lucrative financial opportunities, "Top Billin'" has given Milk an ongoing relevance in the culture he loves so much, despite the fact that he hasn't released a solo project in 25 years.
---
Thanks for reading, see you on Friday!