The Long Road to "The Choice Is Yours (Revisited)"
How multiple chance meetings, sample clearance delays, and Mr. Lawnge's evolving production led to a Black Sheep classic.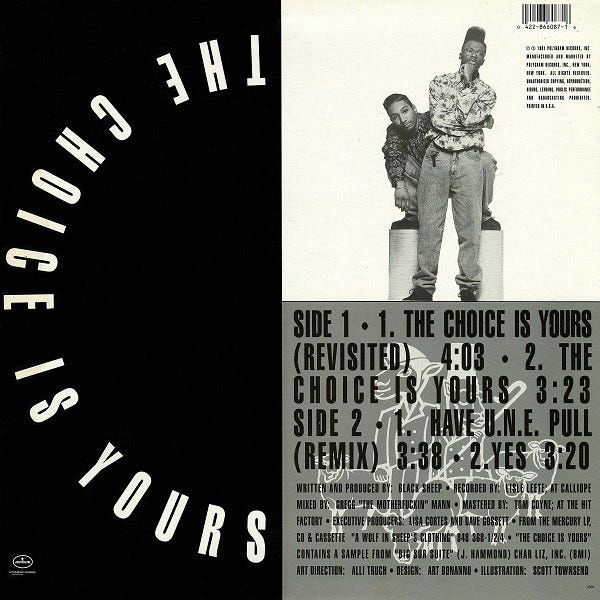 Welcome to Micro-Chop, a newsletter dissecting beatmaking, DJing, music production, rapping, and sampling — written by me, Gino Sorcinelli.
Micro-Chop publishes on Monday, Wednesday, and Friday for paid subscribers. Free subscribers receive Monday's newsletter.
Give feedback, send questions, or just say hi by emailing me at gino@bookshelfbeats.com.
---
The Long Road to "The Choice Is Yours (Revisited)"
When Black Sheep dropped their certified gold debut A Wolf in Sheep's Clothing in 1991, critics and fans were wowed by producer Mista Lawnge's diverse and impressive mix of samples and rapper Dres' distinct voice and delivery. Though it's never easy to pinpoint the exact formula for how a group came to find their signature sound, it seems a shared connection to North Carolina and a willingness to study early beats and rhymes played a critical role in the development of Black Sheep's production and lyricism.
Of the two artists, Lawnge's Carolina roots run the deepest. His mother first left the state to live with his father in Crown Heights, Brooklyn—the DJ/producer's place of birth. Sadly, it was a deeply felt personal loss that made their initial northeast stay somewhat brief. When Lawnge's dad passed away in 1974, his mother made the decision to return to her hometown of Sanford.
Despite having a limited hip-hop scene to connect with in the tiny North Carolina town, Lawnge dedicated himself to becoming a master DJ at a very young age in the early 1980s. "I was in a small town with turntables and that's pretty much what I focused on," he told HalftimeOnline in a 2006 interview. "Anybody who put scratching on a record that's where my whole style came from."
It wasn't long before Lawnge, who went by the DJ name Shorty Doo Wop at the time, started making serious noise well outside of his immediate surroundings. "He was being billed all over the state of North Carolina as a phenomenon," Dres told Brian Coleman in his 2014 book Check the Technique Volume 2: More Liner Notes for Hip-Hop Junkies. "People all over knew about him"
Lawnge's practice and preparation paid major dividends when DJ Red Alert came to Raleigh, North Carolina with rapper Sparky D for a concert in the mid-80s. The famed radio DJ caught one of his live sets and was so impressed that he gave Lawnge his number and told him to call the next time he visited New York. When the young DJ took Red Alert up on his offer, it led to initial introductions with Mike G of The Jungle Brothers and Ali Shaheed Muhammad and Q-Tip from A Tribe Called Quest.
Dres and Lawnge first connected when Dres—who grew up in Flushing and Astoria, Queens—found himself in Sanford after his father's army job landed him at the nearby Fort Bragg military base. Though Dres only attended high school in NC for his senior year, it ended up being a pivotal one. He met Mista Lawnge, who was only in 8th grade at the time, and the two formed an initial connection through the music they loved. "Over the year we got close," Dres told HalftimeOnline. "It was nice 'cuz everything was over at my man's house so we were scratching and rhyming."
Just as Lawnge religiously studied the cuts on records to help him grow and evolve as a DJ, Dres turned to vinyl to help nurture his skills on the mic—citing Just Ice and Tito from the Fearless Four as especially important influences. "Me, Lawnge and our friends at the time all studied everything," he told HalftimeOnline. "We didn't have radio and there wasn't a block party coming through, so whatever record that hit the turntable or that we could get our hands on, we studied them."
After Dres completed high school in the spring of 1985, he returned to New York City and started taking college classes. Due to the five year age difference and geographic disparity, he and Lawnge lost touch as both young men tried to find their respective paths in life. It seemed likely they would never have a chance to reconnect.
Yet they somehow bumped into each other on a Manhattan street after Lawnge moved to moved back to the city in 1989. Before long they were DJing gigs with packed dance floors and investing their earnings in a demo tape. "We recorded it at a studio in the Chelsea Hotel, on 23rd Street," Lawnge said in Check the Technique Volume 2.
By the time they landed a record deal with Mercury and a joint management situation with Chris Lighty and Red Alert in 1989, they had also built upon their relationships with various Native Tongues members and become official members of the incredibly talented crew.
Several members of the Native Tongues had already established themselves as elite sample flippers through the diverse sound sources used on the Jungle Brother's Done by the Forces of Nature (1989), Q-Tip's pause tape demos turned 5-mic productions on People's Instinctive Travels and the Paths of Rhythm (1990), De La Soul's 5-mic sample stacking wizardry on De La Soul is Dead (1991), and several other releases from the collective's catalog.
To make sure that Black Sheep's sound wasn't too similar to anyone else in their extended crew, they gave themselves the freedom to experiment and blaze their own trail. "It wasn't no real science to it we just did what the fuck we felt like doing," Lawnge told HalftimeOnline. "We're not following nobody's format we're just doing what we think is hot and keeping it moving."
Though they strove to create a sound all their own, Lawnge did concede that Black Sheep emulated The Jungle Brothers and A Tribe Called Quest a bit in how they approached connecting all the different samples in their debut productions. "It's basically starting from many different bits and pieces from many different albums and I'd fold them together like cards," he told HalftimeOnline. "Then I'd take them to the studio to use the equipment I didn't have like AKAIs and all that and then direct the engineers on what I wanted to have done. Each piece of each record went down on its own track."
As intricate as this process sounds, Lawnge's sample blending and production skills hit another level while he and Dres waited for Mercury to make sure all samples were cleared before the release of A Wolf in Sheep's Clothing. According to Lawnge, when all was said and done, it took about a year between the album's completion and its commercial release.
With the modestly successful "Flavor of the Month" acting as the lead single, Mercury exec Dave Gossett asked the group for "something hard for the second single" and suggested they use "The Choice Is Yours." Feeling a new level of confidence in his abilities, Lawnge listened to the track and decided to rework it instead of sticking with the original. "Production-wise, I appreciated what I did a year earlier, but I was on a next level [by the time the album came out] with finding samples and putting stuff together," he told Bonita in a 2016 Ambrosia For Heads interview. "I was evolving with the samples."
Though Lawnge thought of giving the track to Chi Ali at one point, he changed his mind and decided to keep it for Black Sheep. As soon as he played the remixed instrumental for his group mate, Dres knew they had something special on their hands. "That track literally could have been put out as an instrumental, and it probably still would have legs," he told Ambrosia For Heads.
After remixing "The Choice Is Yours" to great success, Lawnge also whipped up reworkings of "Strobelite Honey" and "Similak Child," as well as other tracks that have yet to see the light of day. "I tried to remix everything because I was on a different level with production," he told Ambrosia For Heads.
Today "The Choice Is Yours (Revisited)" continues to find rediscovery and new popularity 27 years after it first made waves. From its prominent sampling in Fatman Scoop's "Be Faithful" to appearances in films like Spider-Man: Into the Spider-Verse and You Got Served, the biggest record of Black Sheep's career doesn't appear to be going away any time soon.
For Dres, this is no surprise. Of all the group's successes, this particular song still feels like an inimitable moment of musical perfection. "You know, sometimes, I think about that song sonically and lyrically, that song is nailing it," he told Ambrosia for Heads. "Not to say we didn't nail other ones, but that one in particular, that one's hammered in."
---
Thanks for reading, see you on Monday!