"Summoned By Aliens": How the Beastie Boys, Pete Rock, Q-Tip, and Others Changed Rap Music with the Pause Tape
Welcome to Micro-Chop, a newsletter dissecting beatmaking, DJing, music production, rapping, and sampling — written by me, Gino Sorcinelli.
If you enjoy this article and want to support my writing, please consider buying me a coffee for $3. (Apple Pay and PayPal are both accepted.)
I'm also having a 30% off subscription sale. That means paid subscriptions to the Micro-Chop Substack newsletter are $3.50/month or $30.33 if you sign up for an entire year.
Give feedback, send questions, or just say hi by emailing gino@bookshelfbeats.com.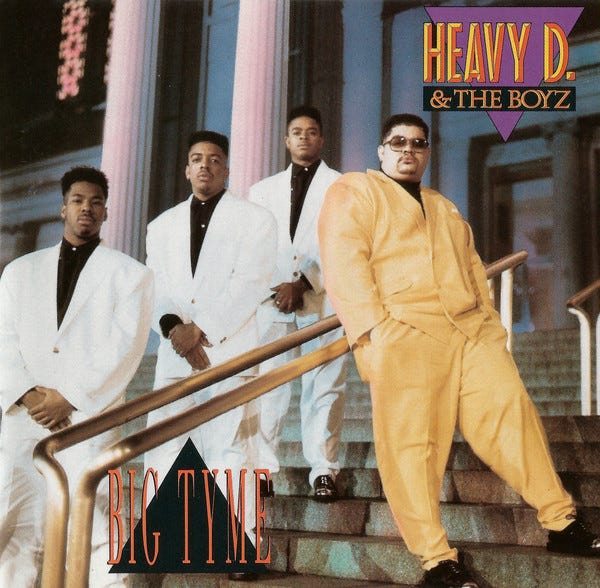 ---
(HipHopDX originally published this article in August of 2016. It has since been republished with permission.)
If you grew up when major music retailers sold cassettes and tape decks were part of every car and home stereo system, you may remember trying your hand at making pause tape beats. For young hip-hop fans without the means to purchase expensive samplers of the day, pause tapes were an early DIY way of producing. Aspiring producers would use dual cassette decks to play and record a sample from another tape or record, pausing the tape when the sample had finished its rotation. They would then rewind to the beginning of the sample and un-pause the tape, starting the process again and extending the sampled loop for several minutes.
Those with more advanced setups would sometimes use a 4-track recorder or an overdubbing feature to layer different pause tape loops together to construct a proper beat. While this may sound amateur at best, pause tapes played a significant role in the evolution of rap music. Although several prominent producers talk openly about experimenting with pause tapes at a young age, many modern rap music fans don't realize that some of these creations became timeless major label releases. In fact, the act of pause tape beats turning into actual records goes all the way back to the early days of hip-hop.
In 2015 legendary producer Easy Mo Bee posted a photo of his Fusion Beats Vol. 2 vinyl on Instagram—a 12" he sees as one of the most influential records in hip-hop history. Fusion Beats is a bootleg party release that utilizes extended versions of popular breaks from the early 80s. The b-side, which became the in-demand song on the record, extended the breaks on James Brown's "Get Up, Get Into It, Get Involved," The Mohawks' "The Champ," and Dyke and the Blazers' "Let A Woman Be A Woman - Let A Man Be A Man." In the post Mo Bee speculated that the pause tape method allowed the song's producer to extend the breaks, stating, "You could easily hear slightly imperfect edits throughout the record at times as the 'secret creator' of this custom mix did his thing. My biggest guess is that it probably was a 'pause tape' that got pressed onto bootleg vinyl for DJs."
In the comments section of the post Breakbeat Lou of Ultimate Breaks and Beats fame weighed in and confirmed that yes, the b-side was a pause tape creation of Afrika Islam. Afrika Islam also confirmed this to be the case in a 2015 Unkut interview by Robbie Ettelson. For Mo Bee, making an extremely influential, imperfect record from a cassette deck beat isn't surprising—it's the embodiment of the art form. He ended his post by saying, "Hey, that's hip-hop…makin' something from nothing."
Although Fusion Beats Vol. 2 may be the best-known example of pause tape production from this era, Afrika Islam was far from the only DJ who used the pause button technique to circumvent the expense of owning turntables. Many DJs who craved a role in the emerging hip-hop scene of the late 70s and early 80s had to get creative and improvise with what they had.
Using tape decks to make beats might seem like an incredible limitation to a modern producer, but you can find examples of DJs who had to figure out how to overcome even further limitations in their tape deck setups. In Bill Brewster's book Last Night a DJ Saved My Life, Grandmixer D.ST (now known as Grandmixer DXT) mentioned not having an actual pause button on his tape deck. He still figured out a way to make it work despite this deterrent. "I would just cut the tape on play and the record button halfway down," he said. "And then when the part of the tape would get to the cut part, I would push the record button all the way down…Then when I got a pause button, I was off the hook!"
We've established that the founding fathers of hip-hop were making early mixtapes and bootleg party records with pause tape techniques. But what about official album releases on major labels? If you dig around a bit, you'll find that several iconic rap records also come from pause tape beats.
In a 2015 interview with NPR's Microphone Check, Bomb Squad member/Public Enemy producer Hank Shocklee stunned co-host and former A Tribe Called Quest member Ali Shaheed Muhammad when he revealed that the song "Public Enemy No. 1" was a pause tape beat. "Before there was any samplers — because people don't realize that the sampling at the time wasn't — when I first did the first record, it wasn't available," Shocklee said. "So we had to kind of like invent that."
Shocklee then explained how the studio engineer helped the group take the raw pause tape beat and turn it into a cleaner sounding final product. But the undeniable fact remains: one of Public Enemy's most recognizable songs started as a pause tape creation.
Dig a bit deeper, and you'll see that Ali Shaheed Muhammad's former group-mate Q-Tip started making beats in a similar fashion. The "wall of sound" style of production that Q-Tip and fellow Native Tongues member Prince Paul utilized in their early years has drawn comparisons to Public Enemy in the past. For both The Bomb Squad and Q-Tip, it seems their early use of pause tape loops and figuring out how to layer them informed their later, more advanced production. The willingness to sit in a room for hours on end looping breaks onto cassettes also helped Tip realize how serious he was about producing and rapping. As he told Red Bull Music Academy's Jeff "Chairman" Mao in a 2013 interview, "After a while of doing those takes I was like, 'I must be, like, on some other shit, if I could sit here for hours and hours and do this with these records and get these little pieces and just continually loop it like that.'"
But did any of these pause tape beats that Tip agonized over end up on albums like 'Public Enemy No. 1'? "I did a lot of People's Instinctive Travels already on pause tapes before we started recording when I was in the 10th grade at 16-years-old," he told Keith Murphy in a 2012 Vibe interview.
Much like Public Enemy, the raw pause tape compositions he started with benefited from some post-production and tweaking. "Actually, I did 'Bonita Applebum' when I was 15," Tip went on to explain in the Vibe interview. "I had a different couple of versions of that song and then I flipped it to another version when I turned 18."
The same year Q-Tip flipped pause tape beats in Queens, another soon-to-be legendary producer used similar tactics in nearby Mount Vernon, New York. Pete Rock—now well-known for his SP-1200 mastery and an extensive back-catalog of classic records—started out making pause tape beats for an early Heavy D and the Boyz album. "I was there watching him make pause button beats for the Big Tyme album," his younger brother and fellow SP-1200 wizard Grap Luva recalled in a 2013 video interview with Live from the Writer's Bench. "The majority of those beats that Pete was involved in were pause button beats. He made 'Gyrlz They Love Me', (sic) he made 'Mood For Love' on pause button tape, (sic) and he made the one where he used 'Mister Magic' ('You Ain't Heard Nuttin' Yet') on pause button tape."
Grap also explained that Untouchables producer DJ Eddie F, who also worked on the Heavy D and the Boyz album, would then put Pete's pause tape creations into a sampler. "He would take those pause button beats to Eddie and he would throw them in the SP-1200," Grap told Live from the Writer's Bench. "They were like, 'Man, this dude needs his own SP-1200.'"
Even as the 80s gave way to the 90s and sampling techniques and technology started to evolve, producers continued to draw inspiration from pause tapes. Another legendary rap group that had an affinity for this bedroom approach was the Beastie Boys. "It's some caveman shit, that's what we used to work with," explained Ad-Rock in a 2010 video interview with Reason Studios. "Banging stones together to make a fire."
Ad-Rock also poked fun at the quality of these limited recordings, telling the cameraman "You smoke a lot of weed and you make pause tapes and then you try to play it for somebody and people are like, 'Why am I listening to this. Who cares?"
Though the significance of his creations might have been lost on others, his fellow group mates were inspired by the process—so much so that the diverse production in the Beastie Boys' third album has a heavy pause tape influence. "Back then we had kind of a battle with different pause tapes we were making and playing for each other," Ad-Rock told author Brian Coleman in his book Check the Technique. "The tapes we were making would jump around with different styles, just quick parts of different songs. Hip-hop to jazz to funk to whatever else. And in a way, Check Your Head ended up being like one of those pause tapes."
Two years after the Beastie Boys pause tape battles paved the way for their beloved third effort, Q-Tip would again dip into his bag of tricks and utilize a cassette deck to craft one of the most recognized singles from Nas' five-mic debut Illmatic. According to DJ Premier, Q-Tip "pause taped the 'One Love' beat." What was Primo's reaction when he first heard the concoction? "We were like, 'What the fuck!?'" he told DJ Vlad during a 2011 interview for VLADTV.
According to Premier, the unique sound of the sample flip on "One Love" came from Q-Tip's pause button distortion of the sample. Not only did Tip wow Preemo with his production magic, he also pushed the Gang Starr producer to evolve his own style and inspired him to remake the instrumental for "Represent." (Click here to listen to the original.)
"That's why I changed 'Represent'," Premier told Vlad. "Because no way he was outdoing me with that shit."
It seems that another one of rap music's most seminal records could not escape the influence of pause tapes.
Around the time the Beastie Boys were pause tape battling for inspiration and Q-Tip ignited a competitive fire within DJ Premier, Nashiem Myrick honed his production skills using a similar method. Myrick—a member of Bad Boy's production team The Hitmen and well-known for crafting timeless Biggie records like "Who Shot Ya?" and "Somebody's Gotta Die"—explained his growth as a producer in an 2012 interview with Grind Music Radio. Myrick told the show's hosts that he made more intricate pause tape compositions by using overdubbing. "After a while I learned how to make four tracks just from pause tapes," he said. "N****s was like 'Yo, them beats is crazy. What do you use?' And I'd be like 'Technics double deck.' (Laughs)…I got the tape deck n***a, that's all I got."
After that, Myrick graduated to an SP-1200 and S-950. By that time, his production style was so advanced that his first official beat made with a sampler went on to become Biggie's infamous "Who Shot Ya?"
While these now legendary figures in hip-hop were developing their styles in New York, far away in Yipsilanti, Michigan a young 14KT started composing his own pause tape creations. In a 2015 Facebook post, KT explained what it was like when he first started out. "I thought I was a weirdo because I didn't know anyone in Ypsilanti…who made pause tapes like me when I was young. It was like I got chosen and summoned from aliens. Little did I know, it was an unspoken language across the world."
The genesis of KT's pause tape production happened when he and his friends needed beats to rap over. He spent late nights after basketball practice making beats with his cassette deck and spitting verses through a busted pair of headphones after the rest of his family went to sleep. "I would 'chop' by putting the cassette player's record button on pause and then un-pause it when I wanted to record a snippet of music," KT explained in a 2016 Micro-Chop interview.
We can now see that many other producers started out the same way and used pause tape beats on albums, but no producer has ever released a full project of their pause tape work. KT recently made the unprecedented decision to share many of his early pause tape creations with the world.
On January 25th, 2016, he put out the first section of 20 Years of Beats [1996​-​2016], a release that explores his evolution as a producer. The Beats 96'-97' [Pause Tapes] release focuses on all the beats KT made with a cassette deck. Unlike "Bonita Applebum," "Mood For Love," "One Love," and "Public Enemy No. 1," these instrumentals did not have the benefit of modification and post production. The release may be rough in both sound quality and technique, but you can tell that KT had an ear for making beats early on. If you fast forward to the 7:22 mark, you'll hear a snippet of something that sounds like a rough version of a track for The Golden Hour or another one of his early releases.
With his pause tape release, KT has embraced the "show your work" climate of today that allows creators to give fans unprecedented access to their work in all stages, from early drafts to final cuts. One has to wonder if any other producers will follow suit and give listeners access to their unfiltered pause tape productions from years ago.
Imagine if we had access to an album of Nashiem Myrick's pre-"Who Shot Ya?" work, the Beastie Boys battle tapes, and earl Pete Rock creations. It seems like there's a world of hidden pause tape compositions and backstories just waiting to be discovered. Hopefully KT's release is only the beginning of increased access to an exciting and under-reported part of rap music and hip-hop history.
(If you enjoyed this article, make sure to check out my 2019 Red Bull Music Academy pause tape feature.)
---
Thanks for reading, see you on Wednesday!