Rest In Peace Stezo
A few thoughts on the loss of the dynamic dancer, rapper, producer, and barber.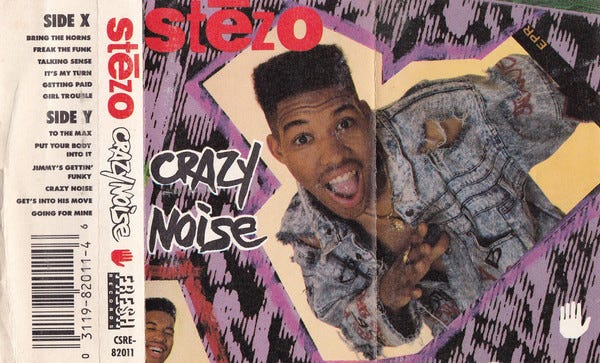 ---
I woke up to some very sad news this morning: celebrated dancer, producer, and rapper, Steve "Stezo" Williams passed away Wednesday night. He was 52.
Stezo was a fascinating guy. Hailing from New Haven, Connecticut, he started out in the music industry by working with EPMD as a dancer. After appearing in the "You Gots To Chill" video, he inked a deal with Sleeping Bag records through A & R Virgil Simms.
His mostly self-produced 1989 LP Crazy Noise is a very strong debut effort featuring the singles "Freak the Funk," "To The Max," and "It's My Turn." Though "Freak the Funk" was relatively successful at the time of its release, "It's My Turn" is perhaps Stezo's most enduring recording.
Opening up with the now-famous sample of the Skull Snaps' "It's A New Day" drum break, the late Paul C engineered the percussion (and the rest of Crazy Noise) to bring the sound to the next level. The drums at the beginning of "It's My Turn" are so hard-hitting that they single-handedly set off a Skull Snaps sampling frenzy, with no fewer than 531 songs reworking the drums after the release of Stezo's single.
When word of the sample source first got out, many people opted to sample directly off of Stezo's recording instead of the Skull Snaps original. "People were sampling it off my album because they said, 'Nah, we got the original, but yours is even thicker Steve.'" he said in a 2017 Micro-Chop interview. "We're like, 'Yeah, because of Paul!' We didn't even know it was going to be a popular beat like it is today."
Though Stezo took an extended hiatus from music after Paul C's murder, he has some quality, under the radar releases in his catalog. Both songs on his 1996 single "Time Ta Blow Ya Mine" b/w "Tention Off The Chest" featuring K-Solo are well worth your time. Featuring excellent production from his DJ, producer, and long-time friend Chris Lowe—who originally discovered the Skulls Snaps record with Stezo's cousin Dooley-O—both songs sound like Stezo was poised to make a serious comeback.
Sadly, though he dropped a few other singles and the 2005 album C.T. (The Lost State), his work never generated the same level of enthusiasm as his 1989 premiere.
A true renaissance man, Stezo reinvented himself as a barber after leaving the industry in the mid-2000s. For those that knew him best, his ability to constantly evolve and grow didn't come as a surprise. "He would get on any machine and figure out how to make it work," Dooley-O told Brian Slattery in a 2020 New Haven Independent article. "He could take a pocketbook and make a pair of sneakers and a designer vest to match. He could cut your hair, make you an outfit, do a beat, and then redo the interior of your car. We called him the Black MacGyver."
After relocating to Charlotte, North Carolina and working there as a barber for many years, he opened up the small, two-person barbershop S & S cuts with a friend and business partner just weeks before they were forced to close because of the pandemic. Sadly, his last Instagram post celebrated the duo's decision to open a compact barbershop and showed optimism that they would be back in business soon. "God moved us at the right time and thanks to our loyal customers that keep us in business, see ya soon," Stezo wrote.
I was very sad when I woke up today and saw the news of Stezo's passing. He gave me well over an hour of his time for a 2017 phone interview while I was writing my long-form article on Paul C. Because of Paul's untimely death and unsolved murder, some artists were understandably hesitant to speak with me. Stezo was as candid, open, and thoughtful as could be.
His detailed remembrances played a key role in the completion of the story and he was an absolute joy to talk to. I regret that I never took the opportunity to interview him again in the three years since we spoke.
As I write this, my heart is heavy as I think about his four children and his fiancé. My condolences go to them and his collaborators, fans, and friends in the hip-hop community.
Rap music lost a true original on Wednesday. May we honor his legacy.
---
Thanks for reading, see you on Friday!