Prince Wrote "Manic Monday" for The Bangles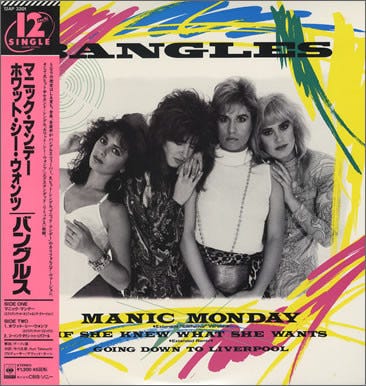 Welcome to Micro-Chop, a newsletter dissecting beatmaking, DJing, music production, rapping, and sampling — written by me, Gino Sorcinelli.
Micro-Chop publishes on Monday, Wednesday, and Friday for paid subscribers. Free subscribers receive Monday's newsletter.
Signing up for a paid subscription for $5/month or $43.33/year helps Micro-Chop provide loyal readers with new and exclusive articles and interviews.
Give feedback, send questions, or just say hi by emailing me at gino@bookshelfbeats.com.
---
Prince Wrote "Manic Monday" for The Bangles
Prince's catalog is so awe-inspiring in size, scope, and influence that it's impossible to quantify in a meaningful way. After releasing 39 albums over the course of his career—excluding projects with New Power Generation and Madhouse—the Minnesota legend sold over 100 million records, won seven Grammy awards, and was inducted into the Rock and Roll Hall of Fame as soon as he was eligible. His accomplishments as a solo artist are so ridiculous that it's easy to overlook many of the classic records he wrote for other musicians, sometimes under a pen name or an uncredited songwriting role. The quintessential 80s band The Bangles' mega hit "Manic Monday" was one such song.
Before he penned "Manic Monday," Prince started out as fan of "Hero Takes a Fall" from the group's 1984 debut All Over The Place. In fact, he liked the song so much that he decided to learn it and surprise them on stage with a guitar solo at a Bangles' show in San Francisco. "We were told he was in the audience, so of course we were very nervous," Bangles' co-founder, guitarist, and vocalist Susanna Hoffs told Songfacts in a 2012 interview. "It turns out he had learned 'Hero Takes a Fall' and he just kind of jumped on stage with us and played this amazing solo. We'd never really met him 'til that night."
After their surprising first encounter, Prince went back to work on projects like Apollonia 6—an all-female R & B trio and later iteration of Vanity 6 who were renamed after lead singer Vanity left the group. According to Per Nilsen's book Dance Music Sex Romance: Prince: The First Decade, Prince wrote and recorded "Manic Monday" with Apollonia 6 in 1984 for their only studio album, but later withdrew the song and left it in his musical vault until he found a more suitable match.
Not long after Prince pulled "Manic Monday" from Apollonia 6, The Bangles went to work on their sophomore effort Different Light. At the same time one of the group's engineers told Susanna Hoffs that Prince had left a demo tape of potential songs for them at Sunset Sound, a famed Hollywood recording studio where The Bangles captured much of their second album. "It had two songs on it and one of them was 'Manic Monday,'" Hoffs told Songfacts. "The other was called 'Jealous Girl.' I have to look up that cassette. I know I have it. It's in a box somewhere."
Although it seemed like Prince had a very specific vision of how the song should sound, the band wanted to put their own unique stamp on it. "I think he was offering us the track so we'd sing it the same way," Hoffs told Songfacts. "But we wanted to do the whole thing from the ground up."
Hoffs credited the group's producer David Kahne for helping them maximize their talents and use their voices in ways they had never imagined before. "In the studio he would give us all sorts of new ideas that we never would have considered," she told Songfacts. "We started to use our voices and our harmonies in a really, really interesting way."
Hoffs admitted to being understandably nervous about recording a Prince song during her Songfacts interview, but the decision to cut a record written by one of the greatest musicians of all time paid big dividends. "Manic Monday" served as a lead single and #2 Billboard hit for 1986's Different Light, an album that would later boast five charting singles and three million copies sold.
Ironically, the #1 song at the time that prevented "Manic Monday" from reaching the very top of the charts was Prince's single "Kiss." With his own song reigning supreme and The Bangles hit record right behind it, Billboard chart editor Paul Grein noted at the time that Prince was "one of only five songwriters [or songwriting teams] in the past 30 years to hold down the top two positions simultaneously."
Adding a layer of intrigue to the story was Prince's affections for Hoffs at the time, which she referred to as "very mysterious." According to a 1987 article in Rolling Stone, "he called Susanna often and traveled to hear the Bangles perform several times, occasionally joining the band onstage," around the time "Manic Monday" was released.
The brief courtship ended in typically legendary Prince fashion when he caught one of their shows right before the release of Different Light. After watching the band perform, he asked them to join him in a Bangles' music only jam session at his studio. "He knew all our songs," Hoffs told Rolling Stone in 1987. "We sat until three in the morning just playing Bangles songs, and then he disappeared again, off into the sunset, and we haven't heard from him since."
(This article is a modified and updated version of a story that was originally published on Micro-Chop.)
---
Thanks for reading, see you on Wednesday!