Missy Elliott Drank 10 Patron Shots While Writing "My Love Is Like...Wo"
An overview of Missy's songwriting dominance and the track that reignited Mýa's career.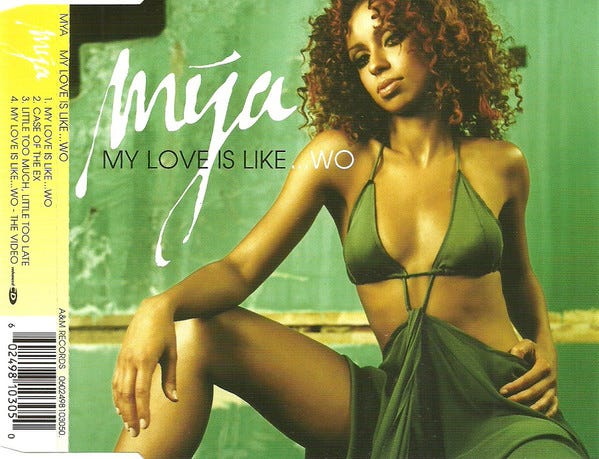 ---
Missy Elliott Drank 10 Patron Shots While Writing "My Love Is Like...Wo"
Missy Elliott's musical resume is a seemingly unending list of incredible accomplishments. In addition to boasting 11 platinum singles and albums, Elliott has a jaw-dropping 33 solo and collaborative songs that have broken into the Billboard Hot 100 during her extensive career. Nine of those tracks earned a spot in the Top 10, with "1,2 Step" and "Work It" both peaking at #2. Oh yeah—she also won four Grammy awards out of 22 total nominations.
Beyond the impressive accolades attached to Elliott's extensive catalog, her artistry, creativity, and originality are always at the forefront of her work. Ask any veteran major label artist about the difficulty of staying true to yourself while simultaneously selling many millions of records and they'll likely tell you it's an near-impossible feat. Missy is one of a select few who managed to find the sweet spot between creative and commercial excellence.
She's so impressive as a solo artist that it's easy to overlook her remarkable credits as a co-producer, producer, and songwriter. Remember Aaliyah's "If Your Girl Only Knew" and "Where My Girls At?" by 702? How about Monica's "So Gone"? Missy penned all of those songs and many others. She also co-produced "Where My Girls At?" and "So Gone" to boot.
So how exactly does an artist manage to write such enduring hits for others while devoting a tremendous amount of mental energy to their own creative endeavors?
According to Elliott, the writing process has always been therapeutic. Beyond that, it gives her an opportunity to channel other people's emotional journeys into something she can share with the world. "It comforts me to write every day," she told Gail Mitchell in a December 2018 Billboard interview. "I always say my friends live vicariously through me because I'll listen to them and then put their stories into song form."
Some of these stories she remembers vividly—like finding the initial inspiration for Monica's beautiful "So Gone" and exploring the singer's relationship woes. "She was in the studio fussing about something," Elliott told Billboard. "I overheard her and immediately wrote the song based on what she was arguing about."
For other songwriting sessions, like the one for Mýa's "My Love Is Like...Wo," it's surprising Missy could recall the process at all. "I just remember I had 10 shots of patron writing the lyrics," she tweeted on February 24th, 2018 while reminiscing on the experience.
As any person who drinks 10 tequila shots and lives to tell the tale can attest, it's difficult to do much of anything in that state of mind—let alone write a Billboard Hot 100 hit.
When Missy first unveiled the track to her friend and collaborator, she remembered them both having seemingly equal levels of unbridled enthusiasm for the song. "I played it for Mýa & we was dancing round the studio having a ball," she said in her tweet.
According to Mýa, however, her relationship with one of the biggest hits of her career was a bit more complicated. Having dropped her self-titled debut in 1998 at age 18, the singer had a relatively innocent image early on thanks to hits like The Rugrats soundtrack inclusion "Take Me There." After releasing Fear of Flying in 2000 to a mixed reception, she grew weary of others controlling her creative process, image, and label politics in general.
With the preparation for her next album on the horizon, it was time for some changes. "I gained a complex because my last album wasn't my album' it was a political war between two people at Interscope [Her former manager Haqq Islam, and Interscope honcho / sometimes Nas manager, Steve Stoute], competing with each other," she told Omar "Calabash" Dubois in a June 2003 interview on her website. "I wouldn't even have bought my last album off of what I presented! In order to buy my last album, I would want more from Mýa!"
By the time she started laying down tracks for her 2003 release Moodring, Mýa wanted to share the realities of early twenty-something adulthood in her lyrics while demonstrating her artistic growth through enhanced production and vocals. Yet despite the desire to open up more to listeners, she was conflicted when she first recorded "My Love Is Like...Wo." Only 21 at the time she and Missy captured the track in the studio, it seems like Mýa felt a mix of self-consciousness and concern for how the song might influence young women. "Back then, I wasn't so confident in saying, 'My ass is like wo,'" she told Billboard in a July 2003 interview. "I was coming out of doing a program with young girls that talked about self-esteem and body image."

Mýa's feeling about the record evolved as she continued recording new music for Moodring. She realized that it was OK to embrace her body and her sexuality in a way that might offend some listeners with delicate sensibilities. In time, she also saw that her Missy-produced record was a potential hit. "I wasn't even considering the song to be on the album at that time, but I later fought for it to be the single," she told Billboard.
Mýa was so invested in the song that she came up with the overall concept for the video as well as the choreography. "My Love Is Like...Wo" proved worthy of fighting for, as it showcased a new level of artistry, confidence, and musical sophistication to listeners—something critics quickly picked up on. It also provided an impressive spark for the promotional run of Moodring—spending five months on the Billboard Hot 100 and peaking at #13.
Mýa, who had almost left the Missy-produced gem on the cutting room floor, embraced her single with full enthusiasm a few months after its release. "I love performing that song," she said in an October 2003 Jet cover story.
As for Missy Elliott, she stayed busy in subsequent years by producing and writing a slew of hits like Jazmine Sullivan's 2008 release "Need U Bad." But despite her impeccable skills behind the boards, Missy noticed that the public recognition for her accomplishments wasn't equal to the fawning praise received by some of her peers with lesser discographies. "I always said if a man would have done half the records that I've done we would know about it," she told Mesfin Fekadu in a July 2016 Associated Press interview. "But we don't know all the records I've done for other artists."
Thankfully, that changed in June of 2019 when Missy become the first woman in hip-hop history—and only the third rapper ever—to be inducted into the Songwriters Hall Of Fame. It was an accomplishment that understandably brought her to tears and left her at a near loss for words as she tried to explain her success. "Even with all the work that I've done, I don't know, and I'm assuming it's just God," she said during her acceptance speech. "I don't know why I am here."
As for her advice for songwriters? It's a bit of evergreen wisdom that any writer can apply to their craft. "Do not give up," she said. "We all go through writer's block. Sometimes you just have to walk away from a record and come back to it, but don't give up because I'm standing here."
---
Thanks for reading, see you on Wednesday!