Madlib, Janet Jackson, and Will Smith Sampled This Roxanne Shanté and Biz Markie Single from 1986
A look at the Juice Crew pioneer and her lingering influence over rap production.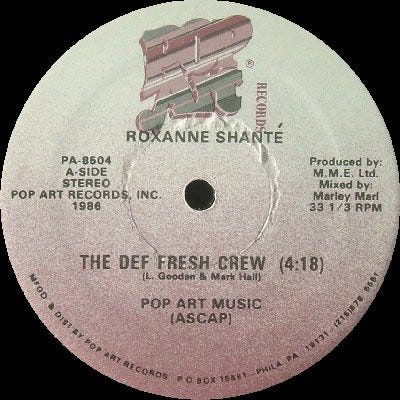 ---
In spring of 2018 I had the opportunity to interview Doug E. Fresh, Bomb Squad producer Hank Shocklee, and Chill Will about Doug's 1988 album The World's Greatest Entertainer for Okayplayer's "Secret History" series. During their interviews, both Doug and Hank opened up about recording the hit single "Keep Risin' To The Top." As I composed the article after speaking with them, I was especially interested in something they both talked about—the use of the voice voice as an instrument.
According to Doug, Hank Shocklee wanted the delivery of his verses to be so rhythmic that people could dance to them on their own merit without the benefit of music, citing Rakim as a peer who excelled at this skill. As they were recording the track, Shocklee would actually turn the music off to make sure Doug's lyrics and delivery passed the test. "We would cut the music off and say the rhyme," Doug told me. "I had to change up my flow. And when I changed it, it kind of just made the whole record feel good."
This obviously isn't the only time musicians, producers, and vocalists have talked about using the human voice as an instrument, but something about this particular story stuck with me. During some recent, heavy-duty archival research for a freelance assignment I wrapped up last week, I revisited a bunch of 80s rap records and was reminded of voice-as-instrument revelations from The World's Greatest Entertainer and "Keep Risin' To The Top."
Sampling rap vocals from the past is nothing new, but I was surprised by the incredibly vast and expansive list of producers who sampled rap records from the 1980s. For example, Big Daddy Kane and Biz Markie's "Just Rhymin' With Biz" has been sampled close to 350 times. That's pretty remarkable—a number of samples just as high as some famous and long-celebrated drum breaks. And if you look closer at both Biz and Kane's catalogs, they've both been sampled hundreds of times beyond this song.
Big Daddy Kane and Biz Markie's cadance, delivery, unique voices, and Biz's beatboxing skills made their vocals important instruments in the evolution of rap and sample-based production. Both artist's influence on beatmaking is impressive, but they aren't the Juice Crew members who deserve this distinction.
Roxanne Shanté is another member of the pioneering lineup of MCs founded by Marley Marl whose distinctive voice made her an ideal sample source. Though several songs from her catalog have been sampled more than 10 times, one single is particularly well-worn—the Marley Marl-produced, 1986 Biz Markie collaboration "The Def Fresh Crew."
With close to 60 different recording artists using this mid-80s single for their own work, it's fascinating to hear how people have repurposed Shanté's vocals and Biz Markie's beatboxing.
On the underappreciated Will Smith, Biz Markie, and Slick Rick posse cut "So Fresh," Jazzy Jeff takes the snippet of Roxanne rapping the words "so fresh" at the 22-second mark of "The Def Fresh Crew" and turns it into an entire scratched chorus.
For Company Flow's 1997 underground anthem "Vital Nerve," MC, producer, and Run The Jewels member El-P snatched a piece of Biz beatboxing at the 4:06 mark, loaded it up into his Ensoniq EPS 16+ keyboard sampler, pitched it way down, and dropped it in throughout the track to add some extra oomph.
Like Will Smith, The Avila Brothers, Janet Jackson, and Jimmy Jam & Terry Lewis took Roxanne rapping "so fresh" and used that vocal hit throughout the 2004 Damita Jo song "Like You Don't Love Me."
Madlib, who has cited "Def Fresh Crew" producer Marley Marl as an influence, took Roxanne's opening line, "We came here tonight to get started" and wove it into the beautifully-produced Strong Arm Steady and Talib Kweli collaboration "Get Started."
The Visionaries also took the same lyrics and put them to good use on the 2004 cut "Momentum."
And even Roxanne Shanté and Marley Marl sampled themselves by using a bit of "The Def Fresh Crew" on 1987's "Have A Nice Day."
The songs listed above merely scratch the surface, as Canibus and Salaam Remi, Low Profile, and the late Charizma and Stones Throw founder Peanut Butter Wolf all sought inspiration in Shanté and Biz's enduring recording.
The focus of the recent Netflix biopic Roxanne Roxanne, Shanté's lingering influence is remarkable considering the fact that her last album came out 28 years ago. That so many producers found her early recordings an ideal sound source for their beats is a testament to the captivating and unique experience she gave listeners.
Beyond the sample-friendliness of "The Def Fresh Crew," Roxanne Shanté also released early rap battle singles like "Roxanne's Revenge" at a mere 15 years old, dropped the Marley Marl-produced Bad Sister when she turned 20, and assembled the the versatile and varied producer lineup of Mister Cee, Grandmaster Flash, Grand Daddy IU, Large Professor, Kool G Rap, and the Trackmasters for her hard-hitting sophomore LP The Bitch Is Back.
All of her work deserves your attention, both for how it stands on its own merit and the way it continues to influence music today.
---
Thanks for reading, see you on Wednesday!