"I Make All the Everything": A Celebration of Jean Grae's Production
A look back at late-90s Pumpkinhead singles, self-produced debut album cuts, and the most powerful moment from 'Everything's Fine.'
Welcome to Micro-Chop, a newsletter dissecting beatmaking, DJing, music production, rapping, and sampling — written by me, Gino Sorcinelli.
I'm having a 40% off subscription sale. That means paid subscriptions to the Micro-Chop Substack are $3/month or $26 if you sign up for an entire year.
Signing up for a paid subscription is great way to support my work and keep Micro-Chop sustainable. You also get access to the entire Micro-Chop article archive.
Paid subscribers receive brand new Micro-Chop articles via email on Monday, Wednesday, and Friday. Free subscriber receive a brand new Micro-Chop article on Monday.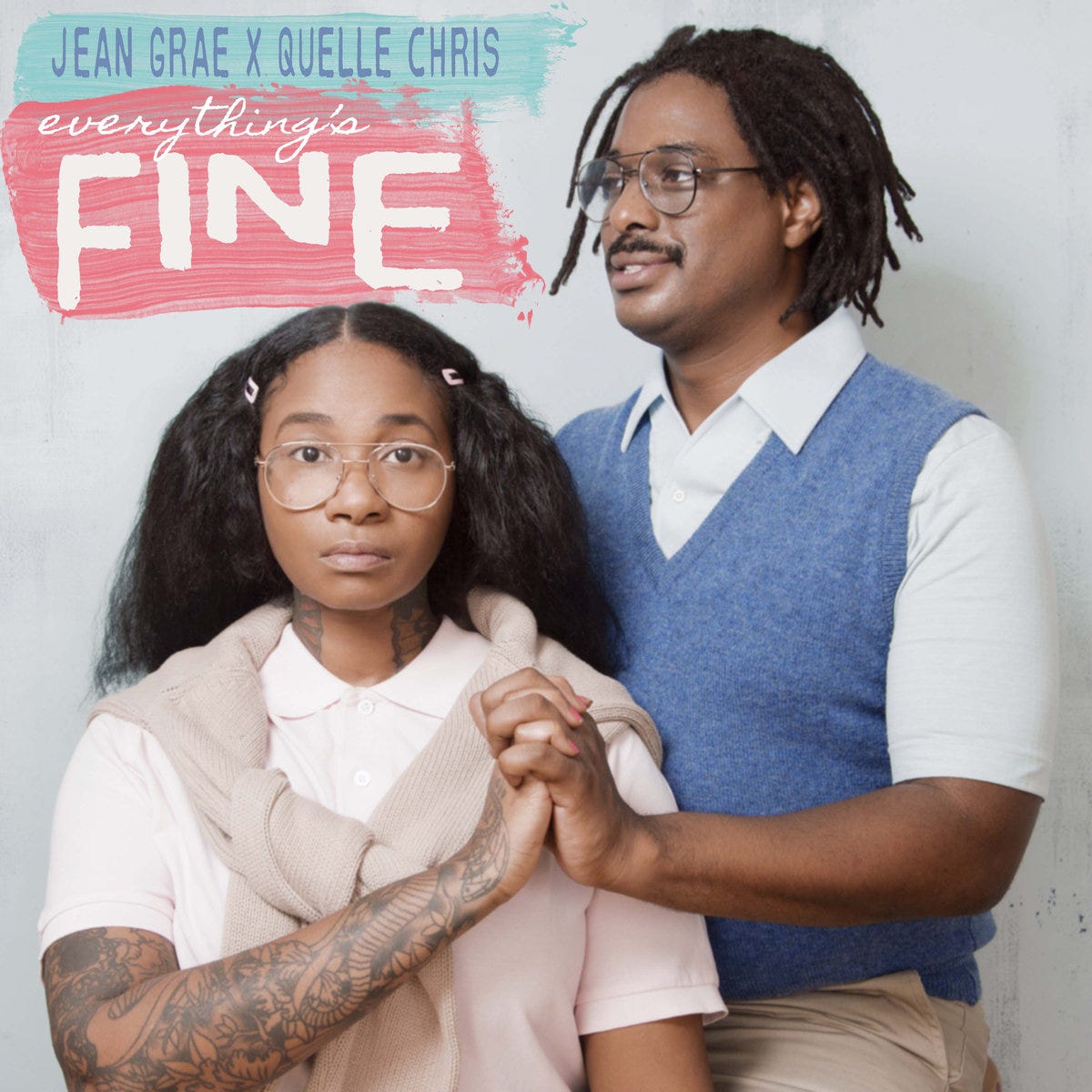 ---
"I Make All the Everything": A Celebration of Jean Grae's Production
Though casual fans may know Jean Grae for her talents on the mic, her impressive MCing abilities only scrape the surface. She's also versatile producer and can sing with the best of them, or as she aptly puts it on her Bandcamp page, "I make all the everything."
Though music publications haven't always recognized Grae's abilities outside of MCing while covering her work, those who know, know. "She kicks a def flow then she does a singy thing all on a slamming track that she produced," veteran rapper/producer Alchemist marveled in a 2014 tweet. "Triple threat."
Long before she earned the admiration of her esteemed peers, Grae's 29-year beatmaking journey began when she acquired a "terrible Gemini mixer with ABCD loop buttons" as a teenager.
After some time spent with her Gemini and a later stint on the iconic E-mu SP-1200, it was her eventual discovery an Ensoniq keyboard sampler that proved to be a transformative moment for the emerging producer. "I found keys were my home when I got an EPS 16+," Grae wrote in a 2018 tweet. "I've used everything else since, but keyboards/playing are my place of comfy."
Grae's earliest production credit came with her former group Natural Resource, when she was still rapping under the name What? What? and producing tracks with the alias Run Run Shaw. It was during this early career phase that that she composed the group's first single "Negro League Baseball" in 1996.
A year later she composed the late Brooklyn rapper Pumpkinhead's upbeat, horn-heavy "Dynamic" while also handling production duties on the well-executed remix version.
Between Pumpkinhead's infectious hook, "I kick fat lines over treble and bass/I don't pack 9s and kill my own race/Just when you thought it was safe/Pumpkinhead transforms into that dynamic emcee PH," and Grae's impressive sample manipulation, the song become a minor classic in the vibrant New York/East Coast independent scene of the late 90s.
Over a decade after the release of "Dynamic," producer Marco Polo took to Twitter to tell Jean Grae how envious he was of the beat.
Grae's early successes didn't cause her to rest on her laurels, as she continued to master her Ensoniq keyboard in the ensuing years. "I spent most of the late 90's trapped in the attic of Makin' Records glued to the EPS 16 plus," she wrote in a 2009 tweet. "Good times."
After racking up extensive production credits and guest appearances on the mic during this period, it was clear that Grae possessed more than enough talent to handle a full-length release of her own by the early 2000s. Once she committed herself to putting out an LP, she began recording her critically acclaimed debut Attack of the Attacking Things.
The creation and release of the album represented a newfound level of maturity for Grae, who was entering a different stage of life in 2002. "I think it was the culmination of me living alone, really coming into being an adult and deciding what that was going to look like, as well as my musical voice," she told Jerry L Barrow in his essential UndergroundHipHop.com oral history of the album.
Beyond her journey through early adulthood, she was further inspired by making music in a comfortable, low pressure environment that allowed her to create whenever she felt moved to do so. "The great part about it is that I had this amazing recording studio in my bedroom so I was making beats and recording my own stuff everyday," Grae told UndergroundHipHop.com.
Crafting beats under the alias Nasain Nahmeen at the time, Grae produced one-third of her debut effort—taking on beatmaking duties for "Block Party" featuring Apani B, "No Doubt" featuring Block McCloud, "Thank Ya!," and "Get It."
Grae's own stellar production, impressive tracks provided by Masta Ace, Da Beatminerz, Mr. Len, and others, and some top notch lyricism helped make the album a critical darling: Will Hermes awarded it an A- for Entertainment Weekly, former HipHopDX writer Sherman Johnson gave it four out of five stars, and Jon Caramanica penned a brief but glowing eight out of ten review for Spin.
Today, with Attack of the Attacking Things currently unavailable on digital and streaming and the 20-year-anniversary approaching in the not too distant future, it seems like the perfect time for a reissue.
2013 would see Jean Grae compose all the music for Gotham Down, a project released in three different cycles—two of which are currently available on streaming.
Cuts like "Kill Screen" highlight Grae's ability to build herself the perfect backing track for her clever and sharp lyricism. Over a slightly ominous beat, her music and words combine to make a perfect union.
Grae once again brought her production to new heights five years later by releasing the album Everything's Fine with her husband Quelle Chris, a record that serves as the ultimate social commentary and musical catharsis for these fucked up modern times.
Boasting three tracks produced by Grae, the final cut "River" featuring Anna Wise proved to be the album's emotional apex. Between the swelling string samples and the intensely personal lyrics to her brother about growing up in a household with domestic violence, the song ilicted a very strong reaction from both listeners and Jean Grae.
While responding to a bit of positive praise from a fan, Grae expressed just how strong her response to the music was. "I think I always go for what makes me FEEL the most," she wrote in a 2018 tweet. "Usually that means what makes me cry. Depends. This album, 'River.'"
It's this emotional honesty, both in her lyrics and production, that makes Jean Grae special. Whether you're a longtime fan or just discovering her music now, do yourself a favor and get familiar.
---
Thanks for reading, see you on Wednesday!