Four Successful Beat Tapes That Weren't Initially Made for Public Consumption
An examination of projects by 14KT, Apollo Brown, Ras G, and Nameless.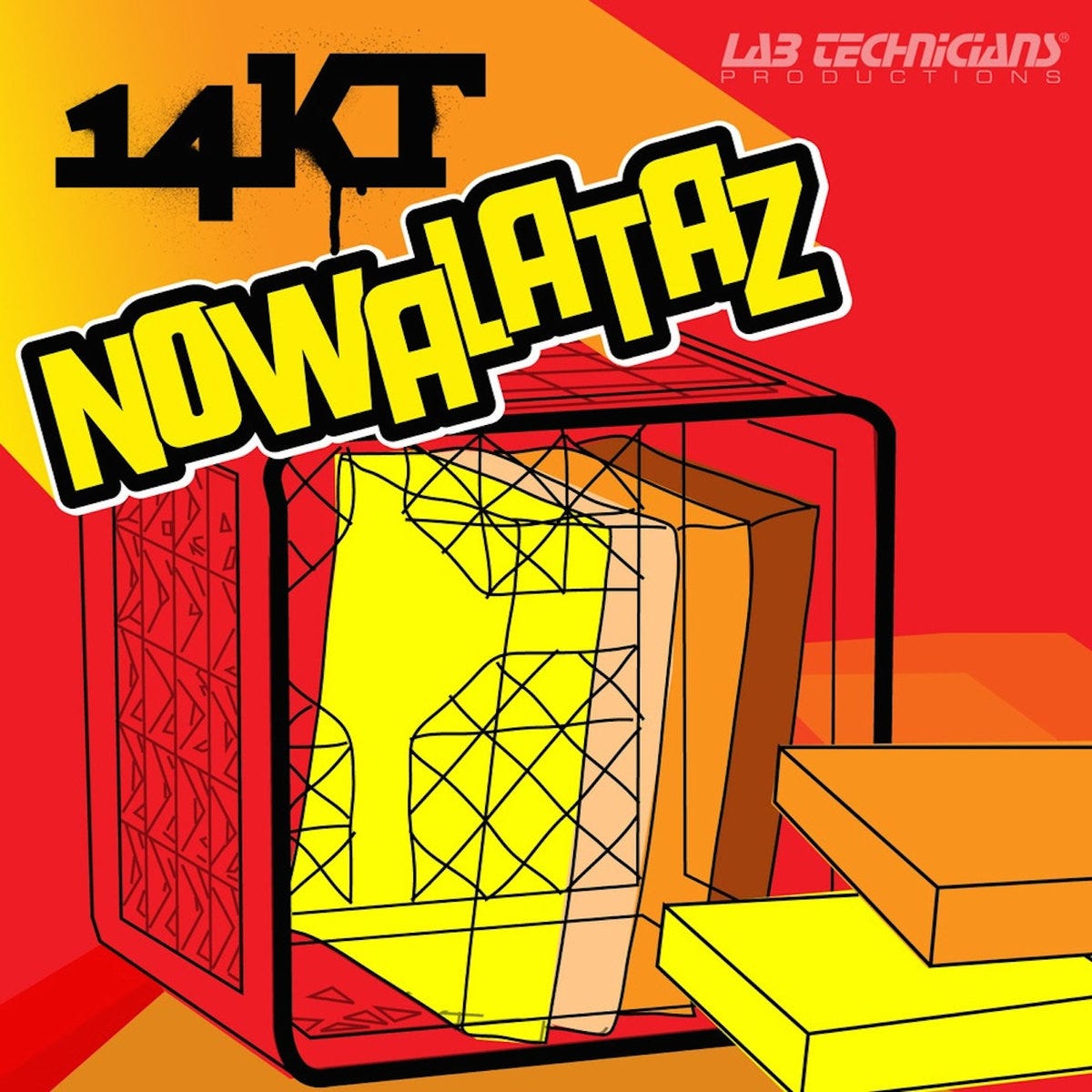 Welcome to Micro-Chop, a newsletter dissecting beatmaking, DJing, music production, rapping, and sampling — written by me, Gino Sorcinelli.
I'm having a 40% off subscription sale. That means paid subscriptions to the Micro-Chop Substack are $3/month or $26 if you sign up for an entire year.
Signing up for a paid subscription is great way to support my work and keep Micro-Chop sustainable. You also get access to the entire Micro-Chop article archive.
Paid subscribers receive brand new Micro-Chop articles via email on Monday, Wednesday, and Friday. Free subscriber receive a brand new Micro-Chop article on Monday.
---
Before you start today's article, make sure to check out the Micro-Chop AMA discussion thread.
Four Successful Beat Tapes That Weren't Initially Made for Public Consumption
Like many music fans the world over, 14KT was in a state of mourning after the untimely death of super producer and hip-hop icon J Dilla in early 2006. Unsure of how to best work through his complex emotions, he decided to channel his grief into something constructive. "To cope with the death of my favorite producer, who I liked to call my unofficial 'musical mentor,' I started making 'donuts' …uncontrollably," he recalled in the liner notes for his Nowalataz album.
With no intention of releasing the Nowalataz music to a wide audience, KT kept the recording process brief and raw. "I was just walking around the house, playing records, hearing something, and then making something out of it," he told me in a 2017 Micro-Chop interview.
Using nothing but the rather limited editing software Cool Edit Pro and stacks of vinyl, KT embraced the restrictions of his setup and started to view them as a positive. "With Cool Edit man, I always looked at it as a blank sheet of paper," he told Micro-Chop. "Cool Edit doesn't come with no sounds. All the software programs now—they come with a bassline, they come with drums, they come with keys, they come with all these different things. But Cool Edit had none of that."
After developing a massive cache of Donuts-style beats, KT realized he needed space on his computer. As his creative focus started to shift, he burned the best tracks from this brief but prolific phase to CD and erased them from his hard drive. The instrumentals sat untouched collecting dust once he placed the CDs in a binder.
KT would get an unexpected chance to dust off his old creations a few years later when he hit the road for a tour with his friends, collaborators, and fellow Athletic Mic League members Jamall Bufford and Mayer Hawthorne. As they sat in their tour van one night listening to music, KT realized he had some of his Dilla tribute beats sitting in a binder. After playing a slew of them for his friends, they encouraged him to put the songs out into the world.
Choosing 17 of the best beats and compiling them as the aforementioned Nowalataz, KT decided to release the album as a free download in 2009. It found its footing in short order and took off with popular blogs and tastemakers, quickly making it one of the most popular releases from his extensive catalog.
Thanks to beautiful selections like "Gee Whiz," "Needing To Win," and "Without," as well as some insane sample chopping, it remains a favorite for many 14KT fans a decade later later—despite never being intended for official release. "Ever since that project came out I've heard so many stories of how people love the record and are attached to the record," KT told Micro-Chop. "To this day, that's many people's favorite project from me."
Fellow Cool Edit Pro aficionado and Michigan native Apollo Brown has his own unique experience with beats not intended for the general public. According to the liner notes, Brown's Skilled Trade started out as an under the radar beat collection he put together before winning the Red Bull Big Tune Championship in Detroit and signing a deal with his current label Mello Music Group.
In a 2013 tweet Brown wrote, "Skilled Trade is my very first Beat Album, originally released in 2007 with unfinished and unpolished beats from the early-mid 2000s."
Despite the unfinished and unpolished status of the music, the album became so popular within the Mello Music Group office that the label decided to put it out as an official release—much to the delight of Apollo Brown fans.
Interestingly, Brown himself doesn't seem to be the biggest fan of his early work, and has even expressed confusion when people cite it as a favorite. Despite his apparent lukewarm feelings towards Skilled Trade, its popularity with beat fanatics continues to endure thanks to killer cuts like "Hold Me Down," "We Almost Lost Detroit," "Spoiled Coffe," and many others.
Meanwhile Nameless, a third Michigan native in this story, also saw some unexpected benefits from sharing beats with no grand purpose. After making a series of instrumentals and collaborative songs that weren't slated release, he decided to put them out as the 2011 album Dusty Pads EP. "This project was basically just chilling on my laptop collecting dust, so I might as well share it with you guys," he wrote in the liner notes.
The album happened to contain "Rainbow Read," a beat that's in the running for the most creative sample flip of all time. Making generous use of a famous children's TV show theme song, the track is a perfect embodiment of Nameless' creativity and flair for the unexpected.
"Rainbow Read" caught the ear of Street Corner Music founder House Shoes, who selected it for Nameless' The Gift: Volume One—the first album ever put out by Shoes' label. This has since lead to a new wave of listeners discovering the tune, which was at risk of staying on Nameless' hard drive and collecting digital dust indefinitely.
Another collection of almost unreleased beats took on an added layer of meaning this summer. When Ras G passed away on July 29th, 2019, it was a deeply felt loss for the producer's family, friends, collaborators, and fans. People were—and still are—devastated by the passing of such a beloved figure and visionary artist.
It's easy to use adjectives like "unique" to describe a musician and their work, but Ras was truly unlike any other producer in existence.
And although Ras has his share of thematic and deliberately thought out records, the gritty as hell Raw Fruit tapes were some of his most popular.
With the first Raw Fruit collection initially seeing the light of day in May of 2013, Ras did not shy away from letting his fans know the level of spontaneity involved in the recording process. "Raw Fruit is my the name of my beat tapes," he wrote in the liner notes. "Freestyle beats shit i make 2 smoke weed to...I just make em, record em, and on 2 the next one...RAW SHIT, no rules just…all out, fuck it."
For a man who was sometimes selective with his words, his description sums up this unforgettable listen perfectly. The whole album plays like a live set from top to bottom, with quick-hitter beats blending together effortlessly after a minute or two of playing time.
The album's lead sequence of "Raw Fruit," "BuzzLightYear," and "HouseParty 1 (VHS bootleg version)" is in the running for the hypest instrumental album intros of all time. It truly captures the tone of the entire Raw Fruit series in just a few short minutes.
Though it may be difficult for fans of the series to believe, there was a time when Ras wouldn't even bother hanging on to Raw Fruit-style beats. Like some of the other producers in this story, he was a bit surprised that they resonated with people so strongly. "Big respect to everybody loving the Raw Fruit Series," he tweeted in February of 2014. "Just think i would usually delete shit like that..But now i know better!"
All of the stories outlined in this article point to one central idea: music made quickly and/or spontaneously captures an almost undefinable energy that often resonates with listeners—sometimes more than songs or albums that are exhaustively perfected. It's often worth sharing these creations with your audience, even if it feels a little bit scary to do so.
If you have a gigantic stash of beats sitting on your hard drive or treasure troves of old disks waiting to be digitized, it might be time to make some moves. At the very least, you should consider compiling some of your unreleased and unpolished work, putting it out into the world, and seeing what happens.
Look at how well this strategy worked for 14KT, Apollo Brown, Ras G, and Nameless.
---
If you enjoy Micro-Chop, I suggest the Trapital email list. Each week, Dan Runcie breaks down the business moves that shape hip-hop culture. He recently made a Hip-Hop Strategy Playbook which dissects recent trends in digital, streaming, and distribution. Sign up for the newsletter to get the playbook and learn more!
Thanks for reading, see you on Wednesday!