Discover more from Micro-Chop
Dissecting beatmaking, DJing, music production, rapping, and sampling.
Over 3,000 subscribers
Big Daddy Kane's Voice is an Instrument
A look back at the Juice Crew MC's early recordings and several notable songs that sample them.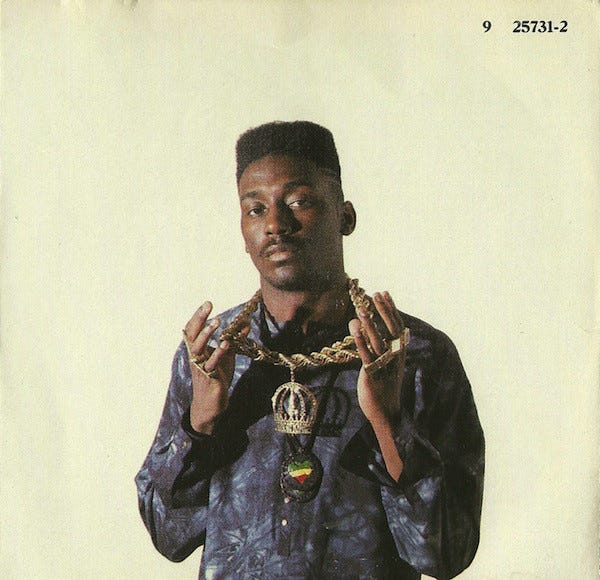 ---
Several years before he turned bragging and boasting on the mic into high art, Big Daddy Kane used DJing as his first point of entry into hip-hop culture. Kane's time behind the turntables didn't last long though. Uninspired with with his abilities on the 1s and 2s, he altered his course and started writing lyrics for his cousin.
Kane also scribbled down verses for himself, often styling his raps after Grandmaster Caz during the early-'80s. As the decade wore on, he further enhanced his composition skills by ghostwriting several breakthrough Biz Markie singles in 1987 and 1988 that appeared on his Juice Crew collaborator's '88 debut Goin' Off.
Beyond Kane's important ghostwriting experience, '87 also marked the beginning of his own vinyl releases. His discography began with a Prism 12" featuring "Get Into It," "Somethin' Funky," and the sleeper b-side hit/Biz Markie duet "Just Rhymin' with Biz." According to Brian Coleman's essential classic rap album oral history Check the Technique: Liner Notes for Hip-Hop Junkies, Kane actually made the original "Just Rhymin' with Biz" beat at his friend's house with an inexpensive sampler before the the track was later remade at Marley Marl's studio.
In Check the Technique, Marley Marl remarks that the recording quality wasn't great and "the levels are fucked up on the track." Take a listen and you'll definitely hear a distinct, ear-catching quality to both Biz and Kane's raps. In particular, Kane's vocals sound unlike any other recording from his career thanks to a delicious sort of distortion.
The song also originally featured one-time Juice Crew affiliates Frick 'N Frack, who, according to Marley Marl, had their verses cut from the song because they weren't signed to Cold Chillin'. One can't help but wonder how it would have helped their careers had they remained on the cut. Their 1989 12" "Look Out" and other early recordings demonstrate that they had a great deal of potential.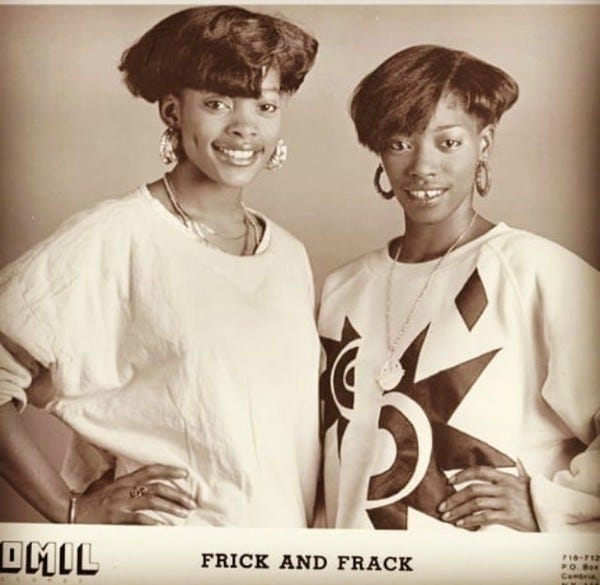 Once the final mix of "Just Rhymin' with Biz" hit record stores shelves, the unrivaled energy, power, and uniqueness of Biz and Kane's vocals made the track a production staple, with artists sampling their words over 350 times in the 33 years since.
The phenomenon of producers finding themselves drawn to Big Daddy Kane vocals isn't limited to "Just Rhymin' with Biz," as the other tracks from his debut 12" also caught the ears of several beatmakers over the years. Do some digging and you'll find samples of "Get Into It" on a handful of records while elements of "Somethin' Funky" appear on close to 30 different tracks.
Beyond the song's use on gems like Mic Geronimo's Buckwild-produced "Masta I.C" and Pete Rock and CL Smooth's forgotten, Nautilus flipping, Who's The Man soundtrack selection "What's Next on the Menu," Marley Marl also used "Somethin' Funky" on "Just Rhymin' with Biz." It seems Marley Marl used the same sample elements as "Somethin' Funky" to rebuild a slightly different track for "Just Rhymin' with Biz," which leans a bit more heavily on James Brown's "The Payback." This interesting phenomenon of Kane sampling or interpolating his own work became a somewhat common practice during his peak years in the late-'80s and early-'90s.
After the release of his first single the scope and size of Kane's influence continued to spread. His enthralling delivery and top-notch lyricism ensured him a place in people's boomboxes, home stereos, and walkmen from coast to coast—especially when it came to his '87 single "Raw," his '88 debut Long Live the Kane, and his '89 sophomore effort It's A Big Daddy Thing. Kane's appeal across the various geographic regions of the United States can be confirmed by the diverse range of artists who sampled his lyrics, a trend that began as soon as he started pressing up his songs on wax.
31-year veteran MC, Houston legend, and long-time Big Daddy Kane fan Scarface used the Juice Crew MC's words from "Ain't No Half-Steppin'" on "Another Head Put to Rest"—the b-side from his debut 12" released under the name Akshen. Scarface's performance in the booth was enhanced throughout the song by some notable production, as Lil' Troy of "Wanna Be A Baller" fame sprinkled Kane's vocals into the hook while DJ/producer Bruce "Grim Reaper" Rhodes cut up "Eric B for President" and other '80s rap records for added effect.
Rhodes later provided Troy's group Mass 187 with the modestly successful 1995 single "Gangsta Strut" before producing the entirety of his platinum solo rap debut Sittin' Fat Down South in 1999.
In addition to occasionally dropping Kane vocal bits into songs, producers sometimes used words from his records throughout the entirety of their instrumentals. In 1995 former Wake Up Show DJ and Oakland Faders member Joe Quixx repurposed "Ain't No Half-Steppin'" and "Calling Mr. Welfare" for Brothas Unda Madness' beautifully produced "Non-Stoppin' The Groove." Quixx creatively flipped both songs, sampling Red Alert's "check this out" from "Calling Mr. Welfare" and making it a central sample while also employing Kane's "Half-Steppin'" vocals on the song's chorus. His expert use of filters and vocal samples created a head-nodding, hypnotic vibe, making the track an ideal fit as the second song from The B.U.M.S.' criminally slept on debut Lyfe'N'Tyme.
While Joe Quixx worked his magic out west, DJ Spinna flexed some sample stacking mastery on the east coast as he tried to compose a flawless remix of Mark Morrison's "Return of the Mack." Unfortunately, record label nonsense got in the way of good music and his remix didn't make it to the finish line.
Not one to wallow in defeat, Spinna instead gave the beat to New York City's late-'90s underground heroes I.G. Off & Hazadous. The instrumental eventually morphed into "Hip Hop Till I Die," the final selection from their 1997 three-song release that also featured the impressive "Street Serenade" and "This Ain't Livin." Spinna's sample flipping on "Hip Hop Till I Die" is unrivaled, as he took tiny fragments of sound from various tracks and blended them together into something incredibly beautiful. He also sliced up "Just Rhymin' with Biz" with precision over Steve Miller Band vocal stabs at the 2:40 mark and at the end of the song.
Sadly, despite I.G. Off & Hazadous both showing so much promise, a drunk driver struck and paralyzed I.G. Off a decade after the release of "Hip Hop Till I Die." He later passed away well before his time in 2012.
Many producers used "Just Rhymin' with Biz" vocals in new and creative ways, but Pete Rock elevated the process of sampling Biz and Kane's b-side to high art. In 1994 he sampled it at least seven times for his classic C.L. Smooth collaboration The Main Ingredient—using Kane's vocals for "In The Flesh," "The Main Ingredient," "I Get Physical," and "Check It Out," while simultaneously sampling Biz's words on "I Got A Love," "Tell Me," and "Get on the Mic." Not content to solely lean on one Kane sample source, he also took a snippet of "Get Into It" on "Sun Won't Come Out" while using bits of several other Biz Markie records throughout the LP.
This obsessive level of using the same rap record and the same rappers throughout a single project looks pretty risky on paper, as one might think listeners would develop Biz and Kane fatigue. But, in a testament to both the power of their words and Pete's production prowess, he somehow finds a way to make the lyrics he samples new and fresh on each and every track.
Pete Rock's appreciation for "Just Rhymin' with Biz"—which started in the early-90s Mecca and the Soul Brother era—has continued throughout his career, working beautifully on 2001's Petestrumentals selection "Walk on By" and "Street Dreams," "Neo Funk," and "Hope the World Don't Stop (Before I Get Mines)" from his 2019 project Return of the SP1200.
In a time where talented artists churn our new music at breakneck speeds and audiences seem overwhelmed by the ever-increasing abundance of listening choices, achieving staying power with a single song or album is quite a feat. The fact that several songs from Big Daddy Kane's catalog have been sampled over 100 times while his entire discography has been sampled over 1100 times speaks to his untouchable delivery and vocal control on the mic. The heavy sampling of his projects is even more incredible when you consider that he hasn't released a solo effort in 22 years.
With modern producers continuing to touch his old recordings today, one can only hope the practice of sampling Kane will carry on for many years to come.
---
If you enjoyed this article, please subscribe to the Micro-Chop newsletter to support independent music journalism.