"Baby Got Back" Made 100 Million Dollars
An in-depth examination of the inception, creation, and continued relevance of Sir Mix-A-Lot's 1992 ode to big butts.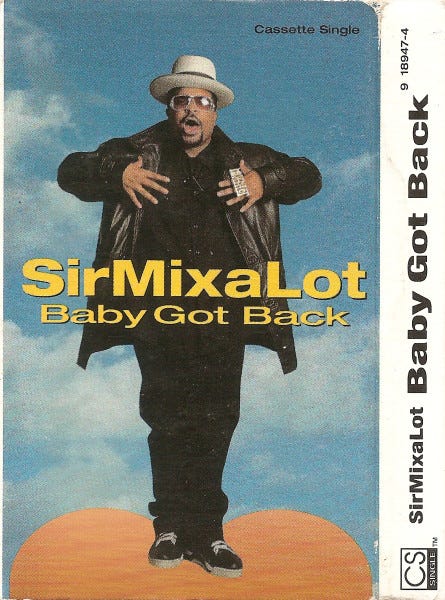 Welcome to Micro-Chop, a newsletter dissecting beatmaking, DJing, music production, rapping, and sampling — written by me, Gino Sorcinelli.
Micro-Chop publishes on Monday, Wednesday, and Friday for paid subscribers. Free subscribers receive Monday's newsletter.
Signing up for a paid subscription for $5/month or $43.33/year (currently on sale for $30/year) helps Micro-Chop provide loyal readers with new and exclusive articles and interviews.
Give feedback, send questions, or just say hi by emailing me at gino@bookshelfbeats.com.
---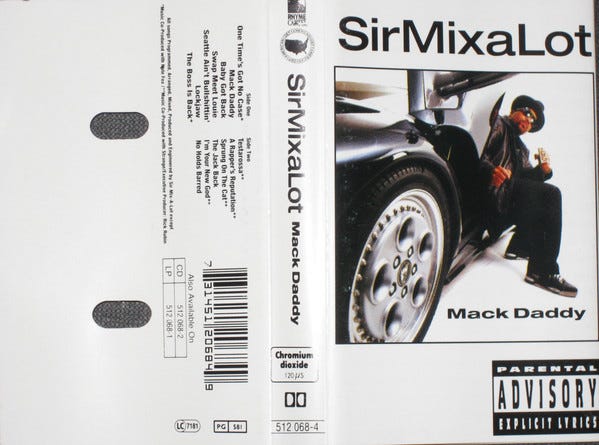 "Baby Got Back" Made 100 Million Dollars
The seeds for Sir Mix-A-Lot's legendary multi-platinum single were first planted when he and his then-girlfriend Amylia Dorsey-Rivas were watching the Super Bowl together in a hotel room during one of Mix's tours. Suddenly, the game cut to a Budweiser commercial featuring former mascot Spuds Mackenzie parading around on screen with an entourage of ultra-skinny women. "Each one was shaped like a stop sign, with big hair [and] straight up-and-down bird legs," Mix recalled in a 2013 Vulture interview with Rob Kemp. "There's nothing wrong with that, but I was so sick of that shit."
The imagery also irked Dorsey-Rivas. As a curvaceous model struggling to find work, she was tired of losing out to overly thin white women who were often in such advertisements. "My background is such that being a woman of color—I'm half-Mexican, half-black, and have always been curvy—was not appreciated at all," she told Vulture. "Where I grew up, in the suburbs of Seattle, if you weren't built like Paris Hilton you weren't appreciated."
Dorsey-Rivas' and Mix's annoyance with the commercial sparked an idea—Mix could turn their collective frustrations into an anthem for full-framed women. With Dorsey-Rivas providing vocals for the now-famous "Oh my god Becky look at her butt" opening, they went to work.
The end result was "Baby Got Back," the second single from Mix-A-Lot's 1992 Mack Daddy album. Despite being one of Mix's least favorite songs on the entire release and the second-to-last song recorded, "Baby Got Back" dominated the charts, sold millions of copies, and went on to make over $100,000,000 through publishing, royalties, and sales during its 27 years of existence.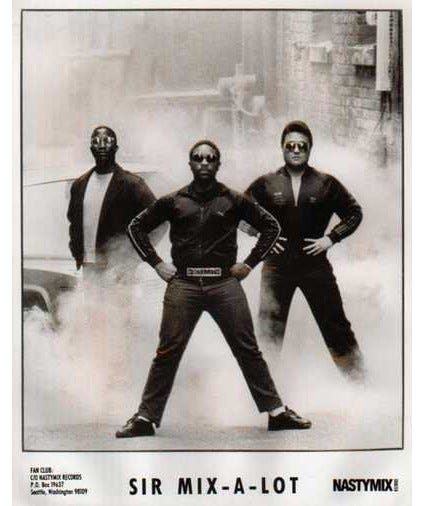 Long before the release of "Baby Got Back," Mix spent his early years honing his craft in a tiny bedroom studio in the residential section of Seattle known as Rainier Beach. Using a drum machine, Korg and Moog synths, and Commodore 64 computer to build his compositions, he channeled inspirations like Devo, Gary Numan, and Kraftwerk into independent singles.
From the very beginning of his career, Mix seemed to have the confidence needed to make it big. "I come up with stuff as good, from a musician's standpoint, as anything by Hashim or Dr. Dre," he said in a 1985 The Rocket article by Glen Boyd. "And I do it right here in this room."
When Mix wasn't working on material in his home studio, he furthered his development outside of the studio with frequent performances alongside the Seattle DJ pioneer Baron Von Scratch. With Mix working the synths and Scratch handling DJ duties, the duo performed some epic live shows that Seattle hip-hop heads still remember fondly today. "I can be a one man band with my synthesizers while Baron just does all those crazy things with the records," Mix said in his 1985 interview with The Rocket.
As Mix honed his live performance skills and worked on his studio game, a fortuitous meeting with radio DJ Nasty Nes in 1984 set the stage for a watershed moment in his career. Nes, a rising star at Seattle's KFOX 1250 AM, had heard of Mix and decided to check out one of his shows at Boys and Girls Club in Seattle's Central District. After watching him tear it down, he knew they could form a mutually beneficial alliance. "After seeing [Mix-A-Lot] cut, scratch, mix, and rhyme at this event, and how he had the crowd rockin', I invited him to come on my show and air his material," Nes told Daudi Abe in a 2006 interview with the Seattle publication The Stranger.
 Not long after their initial meeting, Nes' Freshtracks radio show became a powerful new vessel for Mix to promote his singles. It didn't take long for his songs to resonate with the people of Seattle and his popularity soon skyrocketed. Further aiding his local fame was the formation of his own NastyMix record label, which he co-founded with Nasty Nes and former radio DJ Ed Locke in 1985.
After years of grinding with independent singles and shows, Mix released his full-length debut Swass in 1988. Aided by the 808-heavy hit single "Posse on Broadway," Swass made its way onto the Billboard R & B top 20 album chart and went platinum.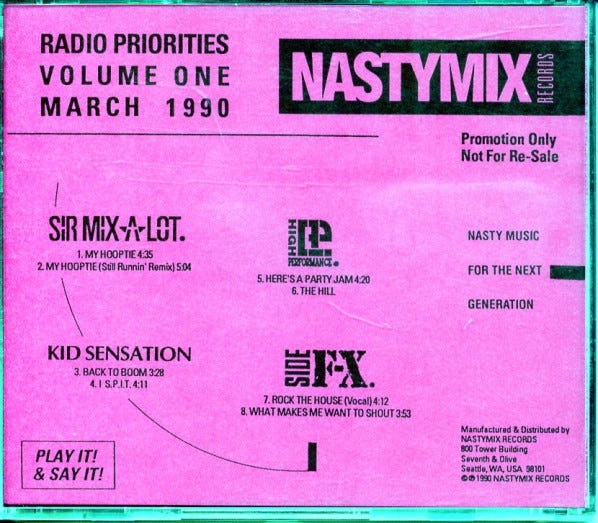 1989's follow-up effort Seminar was certified gold and moved 700,000 units according to Mix, cementing his status as a rap legend in Seattle. "By the time he came out [nationally] he was almost kind of old to the people here," veteran producer and Seattle native Jake One recalled in a 2009 entry from Andrew "Noz" Nosnitsky's essential but short-lived "Local Product' series for Cocaine Blunts. "He was everywhere. He had songs that were big that never even came out." 
(Click
here
to read the fascinating "Local Product" entry on Gary, Indiana with Freddie Gibbs and Gary pioneer Will Scrilla.)
Despite two platinum-selling albums with NastyMix, the good times ended in 1990 after some financial disputes with Nasty Nes. This lead to Mix leaving the label, taking the rights to his master recordings with him, and positioning himself for national recognition and signing with Rick Rubin's Def American label. NastyMix would shut down entirely a short time after Mix's departure.
Once Mix went to work on his Def American debut Mack Daddy, "Baby Got Back" was the second-to-last song completed and submitted for review. It took several iterations before it was album ready after he sent the original demo to the label. "When I did 'Baby Got Back'—initially it was a slow song like 'Posse on Broadway,'" he explained in a September 2014 Reddit AMA. "And then I decided to make a fast version."  
According to Mix, the suggestion to scrap the slow version came directly from Rick Rubin, who knew they'd have a hit if they made it faster. 
After nixing the slower original, Mix decided to build the song around a sample from the Detroit classic "Technicolor" by Channel One, which was produced by techno godfather and legendary producer Juan Atkins. (Click here for the exact moment sample comes in.) This marked a different approach to beatmaking for him, as his earlier work often sampled "found" sounds instead of other people's music. "When samplers finally came along, it never occurred to me to steal somebody else's music," Mix said in an interview for the 2003 book The Billboard Book of Number One Hits. "I would bust a beer on the ground or shoot off guns—I would use anything."
Mix also credited Rubin with the signature mute outs that were used to punctuate certain lines. But despite Rubin's valuable feedback in building the song into something special and his proven track record for success, the Seattle rapper's response to the finished product was lukewarm at first. "I didn't like it, I thought it was going to piss everybody off," he said in his Reddit AMA. 
Mix was so unenthusiastic about "Baby Got Back" that it wasn't released as a single until April of 1992 despite Mack Daddy's February release date. After Mack Daddy's lead single "One Time's Got No Case" didn't make much of an impact, he consented and co-signed the release of his big butt anthem.
The song was almost immediately embroiled in controversy when MTV briefly banned the music video, which featured the Seattle rapper rhyming on top a gigantic yellow ass. "We were trying to move away from MTV's recent past, when videos showing slices of pie would drop into a girl's lap, like in Warrant's "Cherry Pie" were shown around the clock," MTV's former senior vice-president of music and talent Patti Galluzzi told Vulture.
But their attempt to prohibit the video only increased its demand, and the station soon lifted the brief ban and agreed to play it after 9 pm. Once it made its way onto MTV, constant radio play soon followed. Working as a perfect counterbalance to some slower rap hits of at the time, it wasn't long before "Baby Got Back" started to gain some serious momentum. By the time Mix embarked on his first promotional run for the single, it had hit number 1 on the charts midway through the tour.  The difference between the beginning and the end of his tour run was staggering. "The first date was in Salt Lake City Utah: 300 people [turned out]," he told Vulture. "The last was in Panama City, Florida, and there were so many people there that the balcony collapsed."
"Baby Got Back" spent 7 months on the Billboard Hot 100 and went double platinum in three months. It also sold 145,000 copies in a single week and won a Grammy for Best Solo Rap Performance in 1993. In addition to being an instant party starter, part of the song's success seems to stem from Mix's ability to take the serious topics of body image and race that his then-girlfriend was navigating as a model and make it lighthearted and humorous. "Initially it was going to be a serious song," Mix said in a 2014 VladTV interview. "But I realized if it was serious, they wouldn't take it serious. It would just be dismissed...Before people knew what it was about, it had already sold three or four million copies."  
As Mix held his own on the charts among music industry giants like Boyz II Men and Whitney Houston through much of the year following Mack Daddy's release, it seemed like he was poised to reach levels of stardom seldom seen in the rap industry. But like many rappers from the early 90s who scored mainstream hits, repeat success was not easy to come by.
Mix's 94 follow-up Chief Boot Knocka charted but did not achieve gold or platinum status. And while the long-forgotten album cut "Just da Pimpin' In Me" was nominated for a Grammy, it lost out to Dr. Dre's "Let Me Ride" and probably shouldn't have been selected to begin with given the plethora of great rap songs out at the time.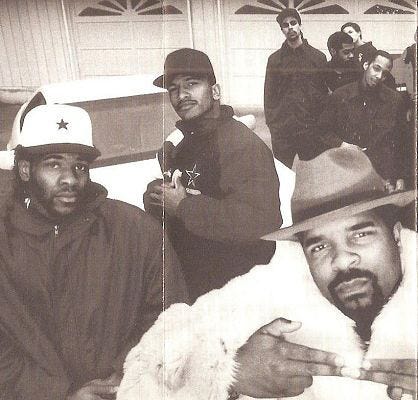 By the time 1996's Return of The Bumpasaurus came out, the rap industry had taken on a drastic change in direction and consumers had shifted their focus to new acts. Since then, Mix has only released one more album—a fate he seems more than OK with. "Am I gonna try to make a bunch of Mix-A-Lot records now? No, I'm a realist," he told Jon Caramanica in an October 2000 Vibe interview. "I'm not into shoving myself down nobody's throat."
Despite his willingness to move on from the limelight, "Baby Got Back" is still going strong 27 years after Mack Daddy first came out. After appearing in everything from Friends to Futurama, the song has undergone endless interpolation, sampling, and parody.
2014 was one of the song's best years in recent memory, as The Seattle Symphony performed a live version with Mix on vocals and Nicki Minaj used generous portions of the song her smash hit "Anaconda". Mix is more than happy to let people re-imagine his work, as it results in more revenue and touring dates for him. "That's what I like, man. Use it, use it, use it," he told Danielle Harling in a 2014 HipHopDX interview when asked about Minaj's hit single. 
The constant re-purposing of "Baby" for almost three decades is largely due to Mix's business savvy and his control of the song's publishing, a business acumen he first demonstrated when he left NastyMix. "Why own your publishing if you're not willing to leverage it?" he asked VladTV.
This attitude has helped "Baby Got Back" make over $100 million dollars, an astonishing figure for a single song. Although Mix is not releasing albums anymore, the steady cash flow has given him the freedom to "record music with integrity" as he continues to dabble with the occasional song and music video.
Though his self-promotion these days is modest, Mix's hit record continues to do all of the promotion necessary for him to make a comfortable living. With "Anaconda" giving the song a recent shot in the arm, and the power to control who can breathe new life into his 1992 release, it seems like Mix has ensured that "Baby Got Back" will continue to live on for many years to come.
 (This is an updated and expanded version of
my article
that was originally published on
Passion of the Weiss
in February of 2017.)
---
Thanks for reading, see you on Wednesday!