6 Essential Instrumental Albums
A must-have collection of beats, from the well-known to ones you might have missed.
Welcome to Micro-Chop, a newsletter dissecting beatmaking, DJing, music production, rapping, and sampling — written by me, Gino Sorcinelli.
Micro-Chop publishes on Monday, Wednesday, and Friday for paid subscribers. Free subscribers receive Monday's newsletter.
Give feedback, send questions, or just say hi by emailing me at gino@bookshelfbeats.com.
---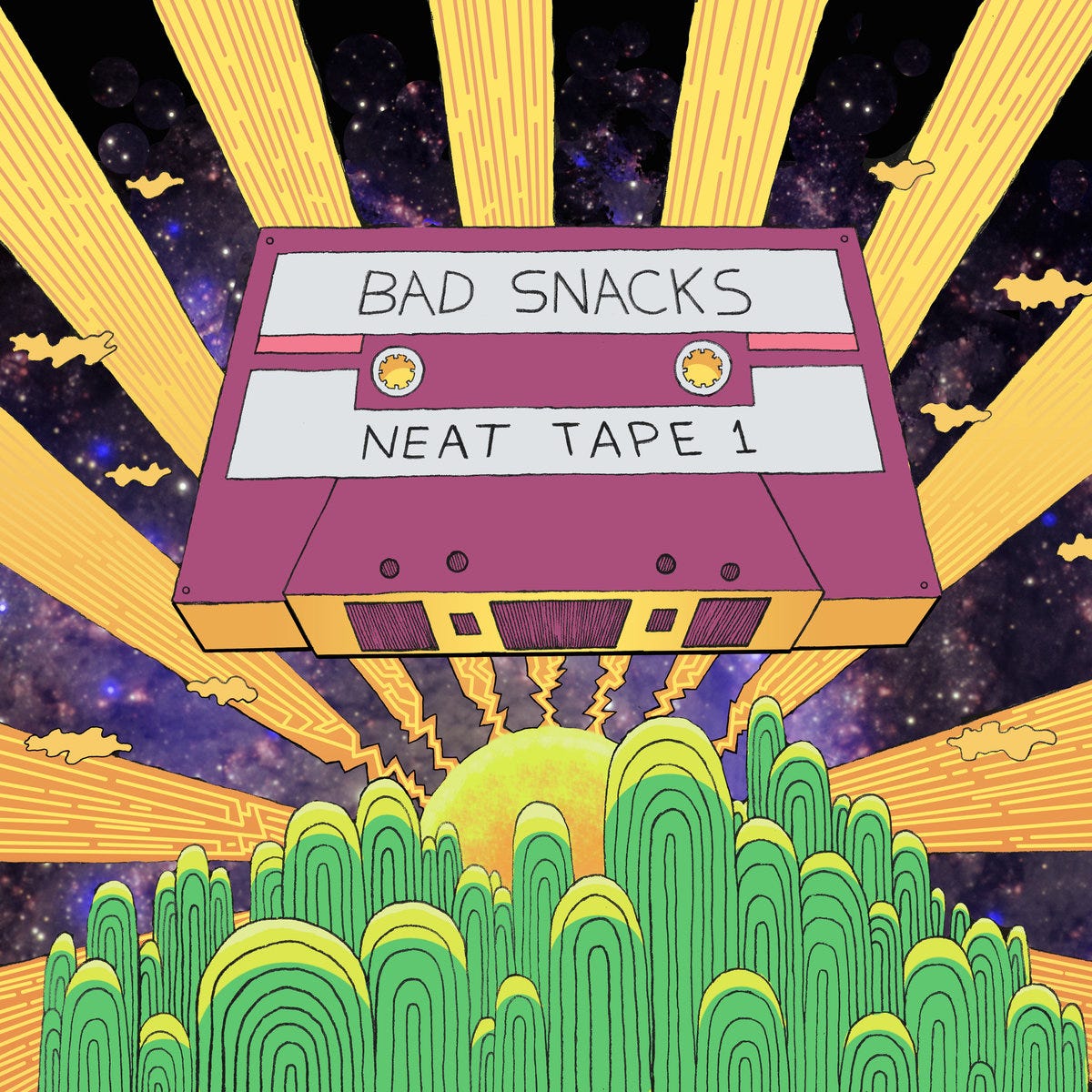 Before I start today's newsletter, a bit of good news. Roland shared my Micro-Chop interview with Linafornia! You can learn more about her creative process, story, and music by clicking the link in the tweet below.
---
6 Essential Instrumental Albums
Readers who follow the Micro-Chop Twitter feed have probably noticed that I compulsively share Spotify playlists. The daily playlists I create have been an amazing exercise in community building, as they've helped my Twitter audience grow from about 1,700 to nearly 5,000 in less than a year with zero paid or promoted tweets.
At the same time, a sizable number of producers have reached out publicly and privately to share very legitimate concerns about Spotify and the problematic aspects of the streaming model. As a result, I'm trying to share more work from Bandcamp—an artist-friendly site that pays musicians a much higher rate for digital downloads and physical albums than any streaming services.
Below you'll find six instrumental albums I love that are available on Bandcamp. You can stream/sample them on the site and purchase them if the spirit moves you.
In Clover by Raggedy Jeans- I've learned so much about music from the people who read my work and the artists I've interviewed since first starting Micro-Chop. John Morrison is a Philly-based DJ and producer I interviewed in 2017 who has definitely helped bring my my musical knowledge to another level. In late 2017/early 2018 he posted a video of Raggedy Jeans killing a live set on her Roland SP-404 sampler. I watched it a few times and decided I had to check out more of her work.

After giving it a proper listen, her 2017 release In Clover became a go-to instrumental album for me and tracks like "Another Day" and "Fresh Eyes" became instant personal favorites. "Another Day" features an oddly beautiful, unconventional sample flip paired with a potent vocal snippet while "Fresh Eyes" makes use of some off-kilter drums and expertly placed chimes that help take the composition to another level. Meanwhile, "Tea" is a short, evocative, and entirely original beat, with an unexpected but well-executed switch-up about one third of the way through the track. This is an excellent collection of instrumental production and I'd like to see it get the attention is so very much deserves.

'96​-​'97 [Pause Tapes] by 14KT- Pause tapes are a critical part of hip-hop history. Artists like Easy Mo Bee, the Beastie Boys, Chuck D, Pete Rock, DJ Scratch, and Q-Tip all used their cassette decks and pause buttons to make early versions of memorable and classic rap songs. Yet despite many producers using pause tapes during their formative years, music fans have rarely had access to producer's raw, original, and unpolished pause tape beats.

14KT changed all that when he dropped the 22-minute beat reel '96​-​'97 [Pause Tapes] as part of his 13-installment series 20 Years of Beats [1996​-​2016]. Each entry from 20 Years of Beats gives listeners an intimate look at the instrumentals from every year of KT's career, with the veteran producer providing fascinating insight and narration at the beginning of each section to heighten the listening experience.

For the pause tape years, we hear what KT sounded like when he first started looping samples with his boombox. Though the beats are definitely rough around the edges, they're also an indicator for the considerable talent he has demonstrated in the years since on projects like his recent jazz record For My Sanity. As he told me in my Red Bull Music Academy pause tape history while explaining the value of sharing his unpolished work, "I think it's important to show how you started, how your developed, and what things you learned on the way. It's embarrassing, but it's actually dope at the same time."

Attention Kmart Choppers by Juicy The Emissary- The story behind this one is just as good as the music itself. Aurora, Illinois resident, former Kmart employee, and lifelong audio enthusiast Mark Davis landed a job at the Naperville Kmart in 1989. He quickly became fascinated by the Kmart-issued cassette tapes of muzak, hit songs, and Kmart commercials that played on loop in the store all day. After rescuing one tape from the trash, he amassed a collection of 59 tapes in the ensuing years during the late 80s and early 90s.

When Davis uploaded his collection to archive.org in 2015, it quickly went viral and has amassed well over 2 million views since. Enterprising Denton, Texas producer Juicy The Emissary downloaded the entire collection, listened to all of it, and made a beautiful, seamless instrumental album titled Attention Kmart Choppers out of the various tape snippets he sampled. Street Corner Music released the project a little over two years ago in the summer of 2017, with Davis himself praising the unique composition and Bandcamp Daily choosing it as an Album of the Day. For a quick sample, check out a video of Juicy's remarkable Christmas music flip on "Attention Kmart Choppers B6" below, complete with vintage Kmart commercials set to the beat.
neat tape 1 by bad snacks- bad snacks came onto my radar through the recommendation of Micro-Chop interviewee Kilamanzego, who told me neat tape 1 was essential listening material. Check out her cover of Little Dragon's "Twice" or her recent Beat Cinema performance and you'll see that bad snacks also plays violin and is also a formidable vocalist, giving her a unique skill set.

bad snacks' talents are on full display throughout her debut effort neat tape 1. "lift off" sets the tone with an impressively layered, extra-hype sound that makes you want to dive into the rest of the album. Listeners will appreciate the smooth union of stings and synths on "shiki no uta (しき の うた)" while the head-nodding "thursday night (alien fight)" somehow manages to be both energetic and soothing at the same time. Meanwhile, "luv u bb" is a perfect instrumental love—song slow, short, and beautiful. "let's go (299 mill)" is my personal favorite, as it goes from a calm vocal sample to hard-hitting drums, synths, and distortion in a matter of seconds.

Vignettes by Damu The Fudgemunk- I remember first hearing about Damu The Fudgemunk in early 2009 when I was writing for The Smoking Section and copies of his Spare Time and Overtime instrumental albums were circulating around the blogosphere. He was wowing people with his beautiful, intricate instrumentals and live MPC performances then and his artistry and recognition have grown considerably since. Damu's 2017 effort Vignettes is a gesture of active resistance against a culture of single-driven artists, shrinking attention spans, and micro content—which is exactly what he intended. "I recommend to anyone playing the album, it's best consumed in its entirety with undivided attention," Damu said in the Vignettes press release. "The experience of Vignettes is similar to committing your attention span to a two-hour movie. I approached its composition like a director."

A sprawling, magnum opus of lush instrumentals that runs two hours long, with several songs going beyond the 12-minute mark, I've never heard anything quite like it before. "Offering" showcases Damu's ear for atypical samples and his deft ability to flip and recontextualize each snippet of sound while "Grace Value" merges beautiful strings and neck-snapping drums. The somber "Openings," which features expertly spit verses and a beautifully sung chorus from rapper, musician, and producer Raw Poetic, is a perfect union of beats and rhymes. Touching on dark social and political themes both past and present through carefully selected vocal samples and Raw Poetic's raps, it might be the highlight of this memorable album.

The Lost Files by brainorchestra.- This captivating and diverse collection of beats from Jersey-based producer brainorchestra. almost didn't see the light of day because of a technical disaster. After dropping a hard drive with much of his work from 2014-2016 contained within, the drive wouldn't turn on after multiple attempts and he almost pulled the plug on reviving it. In one last gasp effort he turned it on a few weeks later and it worked. "I was able to take out a bunch of beats that I had and a few project files that were working," he told me in a 2018 Micro-Chop interview. "I sat in front of my computer for six hours just finding everything, samples and shit. I ended up mixing those beats and releasing them on Autumn Theory."

Refreshingly loose in structure and style, The Lost Files opens with "Announcement," one of the album's highlights. Utilizing a bugged out, somber vocal sample, brainorchestra. somehow makes sense of the eclectic mix of sounds used to compose the beat. The dark, brooding "Cortex" seems like it was custom made for a television or film and showcases brainorchestra.'s full range as a producer. "Fourm" is yet another essential highlight, blending gorgeous samples and scattered drum patterns that manage to work together perfectly.
---
Thanks for reading, see you on Friday!